Make Architects-designed London Wall Place will be marketed by Jones Lang LaSalle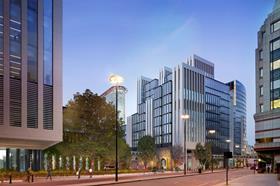 Make Architects' 500,000 sq ft office scheme is being marketed by the City of London Corporation after the project was dropped by Hammerson.
Building exclusively revealed yesterday that the landmark London Wall Place project – which has planning permission – is not being taken forward by Hammerson because it is not viewed as sufficiently profitable.
The two-building project, proposed on land at St Alphage owned by the City of London, was not included in a £520 million sale of Hammerson's London office portfolio to developer and contractor Brookfield.
A spokesman for the City of London said the scheme would be well served by Crossrail's Moorgate interchange and would be marketed by Jones Lang LaSalle following the departure of the City's development partner.
Chairman of the City of London Corporation's property investment board, Michael Cassidy, said: "This is a globally important headquarters office site in the City of London and will benefit from the arrival of the new Crossrail link in 2018, providing a speedy connection to Heathrow.
"This site epitomises the magic cluster effect of excellent transport links, first-class street infrastructure, highly attractive workplaces and the available supply of a highly skilled work force, all of which helps to maintain the City as a major world financial centre.
"The City Corporation has been successful with its development sites such as Bishops Square, Spitalfields, Allen and Overy's headquarters and Riverbank House, which together have provided 1m sq.ft. of offices.
"The new offices at St Alphage should provide high returns to committed investors and could be available at the end of 2015, when it is expected that there will be a lack of comparable new high quality office space ready to occupy".
The scheme, which boasts more than 200m of frontage, was granted planning permission last autumn despite a record number of public objections, largely from residents of the nearby Barbican.
It includes two buildings, one of 300,000 sq ft and the other of 200,000 sq ft designed by Make.