EXCLUSIVE: Developer confirms it will not continue with Make-designed 500,000 sq ft office scheme near Barbican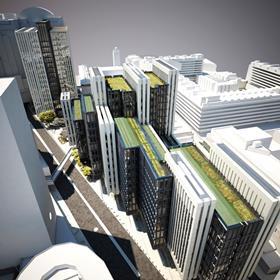 Hammerson has pulled the plug on plans for a landmark office scheme in the City of London designed by Make Architects.
London Wall Place, a 500,000 sq ft scheme proposed on land owned by the City of London close to the Barbican, was approved for planning a year ago by the City's planning committee but has been on hold since February when the developer announced its intention to pull out of the office sector.
Now, Hammerson has confirmed that it will allow its option on London Wall Place to "lapse" by the end of this month because the scheme is not sufficiently profitable.
Building understands that the scheme was not expected to hit Hammerson's benchmark return of 7.5% and was complicated by a difficult site and restrictions on floorplates and the placement of towers because of London's viewing corridors.
In a statement, the firm said: "The option has no value in Hammerson's books and in line with its revised strategy, Hammerson intends to allow it to lapse by 28 June 2012 as the scheme does not provide sufficiently high returns to the company."
The project was set to include two main buildings – a 12-storey 300,000 sq ft office block at 1 London Wall Place encompassing large floor plates and extensive gardens and a separate 16 storey tower spanning 200,000 sq ft at 2 London Wall Place.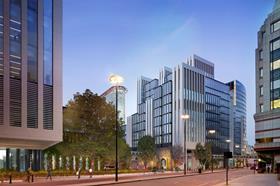 A website and Ipad app developed for the scheme by Hammerson said it would regenerate the London Wall area and boasted of its "striking architecture".
However, the plans also received a record 135 objections ahead of planning approval, mainly from Barbican residents concerned about loss of daylight and increased traffic.
Make declined to comment but speaking last June, project architect at the firm, Ian Lomas, said: "This is a complex site and the scheme balances the needs of Barbican residents with the reinvigoration of the City. As a practice we are proud of the scheme."
Back then, construction was expected to be completed by 2014 and ready for full occupation by 2015.
The City of London also declined to comment.