Administrators for stricken steel firm warn talks with potential rescuer are close to petering out
Administrators for Cleveland Bridge have admitted hopes of finding a buyer for the stricken firm have to come to nought with the business set to shut for good the week after next.
The firm collapsed into administration in July with FRP Advisory warning that the £48m turnover business, which began trading in 1877, would be wound up if it could not find a buyer soon.
Cleveland Bridge employed 220 staff at its Darlington headquarters with a further 98 employed as contractors in the town and various other sites across the country.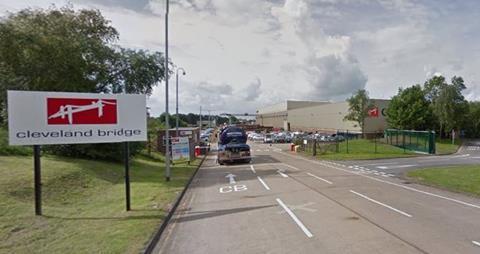 Around a quarter were made redundant early last month with 29 staff put on furlough, although just over 100 were kept on to help administrators get some limited production back up and running.
But tonight (Thursday) FRP said hopes of finding a buyer were fading fast and that talks with one would-be white knight were petering out.
It said: "The Administrators have continued to liaise with a potential purchaser for the business and assets, however assurances required from the buyer to confirm their ability to proceed have not been received. Whilst the Administrators will keep this dialogue open, they must prepare for the prospect that the business will cease to trade following completion of final production in week commencing 20 September 2021."
Joint administrator Martyn Pullin added: "We have worked tirelessly in the hope of finding a buyer who would continue to operate Cleveland Bridge as a going concern, running a thorough and extensive sales process. However, with no current viable offers remaining to take the business on, we must now prepare for a property and asset sale. Regrettably, production will finally end on site later this month."
The company, which has been majority owned by Saudi Arabian Al Rushaid Group since 2002, reported a £457,000 pre-tax loss in its last set of accounts for the year to December 2019 on turnover up 30% to £48m.
In the accounts, the firm warned that "political uncertainty, in both the UK and Sri Lanka [where it has several jobs] in early 2019, meant [there had been] delays on project starts".
At the time of its appointment, FRP blamed covid-19 for Cleveland Bridge's woes with Pullin saying: "No business is immune to the far-reaching impact of the pandemic, which has delayed major infrastructure projects around the world and put significant financial pressure on the teams behind them."
Cleveland Bridge's historic roster of jobs includes the Sydney Harbour Bridge, the Severn Crossing and the Wembley Stadium arch and roof.
It is currently working on several highways and railway schemes.