Police re-opened site just before 11am yesterday
Environmental activists have blockaded the entrance to London Concrete's works by Stratford's Olympic Park.
The protestors, who are part of the Extinction Rebellion group, which brought the Strand to a standstill earlier this week, took up their post at 6am yesterday, blocking the entrance for several hours.
Police re-opened the site just before 11am yesterday.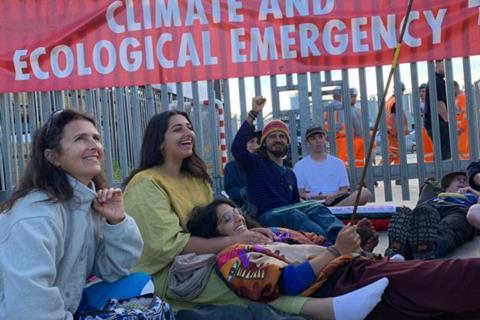 About 50 protesters joined the blockade in a bid to halt works for the day, while the Metropolitan police said six people were arrested.
The group said London Concrete had been targeted to halt the expansion of the works, which it said are intended to support the £1bn Silvertown Tunnel project.
It said: "The protest is intended to highlight the devastating effects the expansion will have on the health of local residents."
The Extinction Rebellion is carrying out a "Summer Uprising", which will run for the rest of the week and will see protests held in five UK cities: Bristol, Cardiff, Glasgow, Leeds and London.
London Concrete is part of Aggregate Industries. Aggregate Industries has been contacted for comment.