Mark Wild says jobs such as M&E on London sites still way behind schedule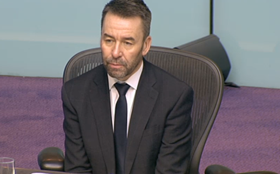 More than half of the complex fit-out work on Crossrail's central London stations such as M&E is still not finished, the boss of Crossrail has admitted.
In a letter updating the chair of the London Assembly's transport committee on the scheme's progress, the railway's chief executive Mark Wild (pictured) told Caroline Pidgeon more than half of the systems work at the stations still needed to be completed.
The news will heap further pressure on the £17.6bn scheme about when its previous bosses should have admitted the project would miss its December 2018 opening date.
Yesterday, a senior project source told Building that Crossrail should have known months before it was officially confirmed that the scheme was way behind schedule.
Wild, who replaced Simon Wright in the top job back in November, is conducting a forensic review of the project ahead of coming up with a new opening date.
He has already admitted he still doesn't know when the line will open and said the ongoing problems have meant staff morale on the job has collapsed.
In his letter to Pidgeon, dated 8 February, Wild said: "At this time less than 50% of stations systems installation is completed and we are focused on improving productivity at each site.
"The current rate of static testing in stations remains behind plan and is a significant focus of the new programme and technical leadership on the project."
Systems within Crossrail's central section include CCTV and public address systems, customer information displays, radio systems, data networks that carry information to and from the route control centre, signalling and train software, tunnel ventilation and fire safety, low and high voltage power and platform screen doors.
Finishing off the nine central stations, which include Farringdon and Bond Street, is eating up £30m a week and Wild told Building: "Crossrail needs construction activity to come to an end and for Tier 1 contractors to demobilise their delivery teams so that we can move ahead with integrating the nine new stations with the rest of the railway."
His letter to Pidgeon, which has been published by Transport for London, revealed that the programme's new delivery schedule included staged completion and handover dates for Tier 1 contractors working on stations, shafts and portal called "substantial demobilisation dates" (TOSD).
Wild said: "We are making good progress with a total of eleven (of 22) TOSDs for stations, shafts and portals now achieved. Further work has been undertaken to gain clarity on completion dates on stations, shafts and portals."
He said substantial Tier 1 demobilisation had been achieved at Whitechapel's Crossrail areas and the Plumstead Portal last month.
Addressing the London Assembly earlier this year Wild revealed there was "thousands of hours of work" still to do on the project and that none of the stations would have been ready to open by the December deadline.