Crossrail chief executive Mark Wild has told the TfL board that he does not know when the line will be finished
Crossrail boss Mark Wild has revealed that there is no chance of Crossrail being completely finished by the end of this year - admitting he still did not know when the £17.6bn job will be done.
Addressing a meeting of Transport for London's board on Wednesday (30 January) Wild said he did not have a timeline for when Crossrail would be fully operational but that the new leadership team was going through the project with a "fine-tooth comb".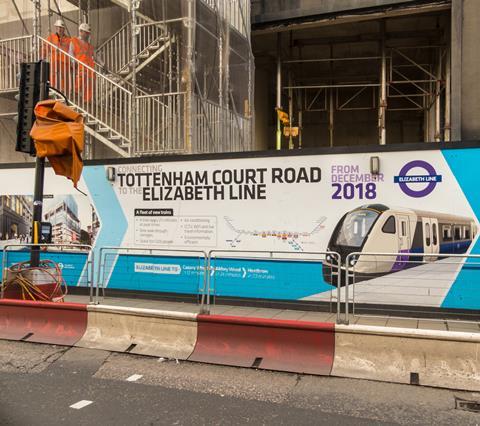 Speaking to the board, which is chaired by London mayor Sadiq Khan, Wild said: "I can't see how this job can be delivered in calendar year 2019.
"I don't actually know when it will be delivered after that."
Stage three of the programme, which is the section of Crossrail that runs through central London, was due to open last December, while stages four and five which would see trains run all the way from Shenfield in the east to both Heathrow and Reading in the west were due to open by the end of this year.
Wild also admitted he did not see the bulk of construction work at some of the stations being completed until the summer, but that he did expect tier one contractors to have "substantially demobilised" their workforce at Paddington, Tottenham Court Road, and Whitechapel stations by the middle of March.
He said: "There are two things we have to do with the stations. We need to get rid of the very, very large marching army that we have that are doing core installation work.
"And then after that's done, and only after that's done, can we get into the very, very complex area of integration of these stations. The reasons why it's not completed really aren't that interesting to me, but we are deploying the full intensity of focus to get the work completed."
The teams being pushed to finish work in the next six weeks are a joint venture between Costain and Skanska at Paddington station, Laing O'Rourke at Tottenham Court Road and a team made up of Balfour Beatty, Morgan Sindall and Vinci at Whitechapel.
While admitting there was still plenty of uncertainty around when the other stations would be complete Wild said he felt that there was "now contractual buy in from the tier one contractors" when it came to committing to completion dates.
He said: "I think for the very first time on Crossrail we have the buy in from our main contractors, contractually, for these dates. It still doesn't mean they will achieve them, it just means we have alignment which I must say we never had on Crossrail."
The Crossrail board, which was due to meet today, was expected to discuss plans for completing works at other stations and improving the productivity of contractors working on finishing the line.