Markit/CIPS index shows contraction for second straight month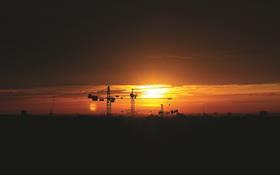 UK construction activity contracted for a second straight month in September, the latest Markit/CIPS construction purchasing managers' index shows.
The index rose slightly to 49.5 from 49.0 in August, but remained below the 50 line that separates growth from contraction.
David Noble, chief executive of CIPS, said: "September's figures show the construction sector's cupboard to be well and truly bare, rounding off a disastrous quarter.
"After the longest continual decline in new orders for three years, this is of no surprise.
"Looking ahead, there is little to be positive about.
"Homebuilding continues to be hit hard, the commercial sector, so long the star of the industry, has lost its sparkle. That civil engineering has seen a moderate increase in activity, is scant consolation.
"This continued poor performance has been compounded by an increase in input prices reflecting rising cost pressures across the global economy.
"All of this, points to an ominous future. In the absence of investment of some kind, we are likely to see this level of activity continue for some time, or possibly even drop further."
Tim Moore, senior economist at Markit, said: "UK Construction PMI data for September presents another bleak assessment of business conditions in the sector.
"The current stretch of falling new orders is now the longest seen for three years, reflecting shrinking underlying demand alongside delays in spending from both public and private sector sources.
"A lack of new projects meant that confidence in the business outlook remains close to its lowest since the UK economy nosedived into recession during 2008.
"An upturn in civil engineering output was overshadowed by downturns in house building and commercial activity during September, with the latter posting its weakest performance for around two-and-a-half years.
"While temporary factors such as the Olympics and an extra working day relative to Q2 somewhat cloud the interpretation of Q3 UK GDP, the principal take out from September's PMI survey is that underlying construction weakness is likely to continue for the remainder of 2012."
Jonathan Hook Engineering & Construction leader from PwC, said: "The construction sector's second consecutive month below the 50 mark indicates how tough conditions are for the sector in the UK right now."
"The figures are disappointing but far from unexpected, the Government initiatives around the first time buyer housing market don't appear to be doing enough to stimulate a market impacted by confidence and mortgage availability.
"Also the announcements in recent times regarding use of Government guarantees, pension fund investment in infrastructure projects and potential relaxation of planning regulations, whilst all welcome, are crucially not translating into action or doing enough to kick start growth for the industry."