Fielden + Mawson and Broadway Malyan among those announcing appointments and promotions this week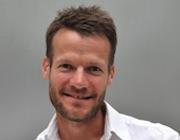 Contractors
Lovell has appointed Mark Lewis finance director, Greg Kaye regional sales manager for London and Sophia Bruce regional training advisor for London.
NG Bailey has appointed Graham Cleland general manager of its offsite division.
Architects
Broadway Malyan has appointed Singapore-based director Ed Baker to its main board.
Fielden + Mawson has appointed Charles Curry-Hyde (pictured) partner.
Organisations
Nahid Majid has been appointed head of the Regeneration Investment Organisation.
Building Safety Group has appointed George Bunch safety adviser covering Scotland and Carlisle.
The Construction Industry Council has appointed Bridget Bartlett chair of its diversity panel and Andy Ford as its vice chair.
The BRE has appointed Miles Watkins business development director.