New figures described as 'promising' but work is still needed to recruit females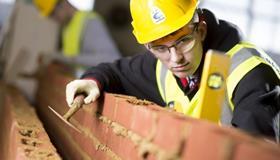 The construction sector was among the best performers in new apprenticeship starts across the UK last year, according to newly-released government data.
Figures from the department for education suggest the construction sector accounted for 7% of all apprenticeship starts in 2017, compared with just under 5% the year before. But the industry was dwarfed by those beginning an apprenticeship in the healthcare sector, which registered more than a quarter (27%) of all starts last year.
Smaller construction firms – those with up to 50 workers – were the biggest represented in the sector, accounting for around 68% of the total apprenticeship starts in the industry.
Earlier this month MPs cast doubts over the quality of some training schemes offered to youngsters, noting that while many further education colleges and independent training providers did a good job there was a clear need for oversight of apprenticeship training and assessment and a tougher approach to poor quality training.
Responding to the latest figures Karen Jones, HR director at housebuilder Redrow and non-executive director of the Construction Industry Training Board (CITB), said it was "very promising to see the construction industry lead the way in the number apprenticeship starts in the last academic year.
"However, the data also shows that 88% of construction starts were male. With Brexit sharpening concerns that the construction skills shortage will deepen, it is more important than ever that we reach out to young people of both genders, and ensure they are educated in the different career paths that construction can offer."
The total number of apprenticeship starts last year was 494,900, down 3% on 2016's total. Over the last five years apprenticeship starts have yet to beat 2012/13's 510,200.