Latest PMI survey shows construction growth sharply rebounded in June after slump in May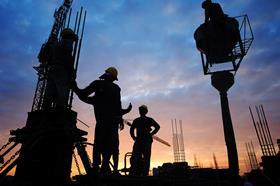 The expansion of activity across the construction industry rose to the fastest rate since February last month, the latest survey of purchasing managers has found.
The latest Markit/CIPS Construction Purchasing Managers Index, which measures the rate of increase or decrease in the activity of purchasing managers, showed activity rebounded significantly in June, after a slower month in May, with a score of 62.6, well above the 50.0 mark, which separates expansion from contraction.
This was up from the seven-month low of 60.0 posted in May.
Tim Moore, senior economist at Markit, said the sharp rebound in activity was driven by mainly by faster expansions of housing and commercial building activity.
He said: "UK construction companies started the summer with another surge in house building and commercial activity, which helped to offset a slight moderation in civil engineering growth as temporary projects related to flood relief came to completion.
"The latest survey suggests that the UK construction sector has expanded by more than 1% over the second quarter of 2014, driven by improvements in the
underlying health of the UK economy, favourable funding conditions and robust increases in new housing starts.
"A key recent development across the construction sector has
been the return to pre-recession rates of job creation, following a prolonged period of falling payroll numbers and cuts to operating capacity.
"Moreover, the latest rise in construction employment was the fast since the survey began in 1997, which represents a remarkable yardstick of progress as the sector looks to recover the ground lost over the past seven years."