BEIS says significant number of roles could be filled by those made redundant from High Street
The government is working with industries hardest hit by the covid-19 pandemic such as retail to get staff to switch careers and move into construction.
Last year was the worst for the High Street in more than 25 years as coronavirus accelerated the move towards online shopping.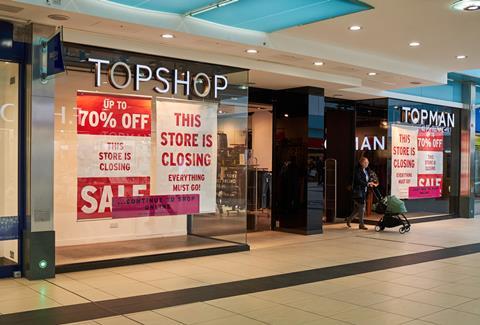 Nearly 180,000 retail jobs were lost in the UK in 2020, up by almost a quarter on the previous year, according to the Centre for Retail Research.
It warned there will be more pain for the sector in 2021 as retailers face a cash flow crisis and rent payments, predicting 200,000 jobs are at risk in the sector.
Retailers which collapsed last year included Topshop-owner Arcadia, Edinburgh Woollen Mill Group and Debenhams.
Last summer, the Construction Leadership Council (CLC) launched its talent retention scheme which allows individuals to advertise their experience and expertise and helps businesses across the industry find the skills they need.
Stuart Young, head of stakeholder engagement and management at the department for business's construction unit, said one third of vacancies advertised on the portal were not trade specific – and therefore open to applicants from other industries.
He said: "We are actively reaching out to other sectors that have been much harder hit, in terms of job losses, by the pandemic."
Young told a webinar, hosted by Building and the CLC earlier this week, on how construction recovers from the pandemic, that those made redundant in other sectors could fill a swathe of roles in construction such as administration, human resources, health and safety and commercial.
He added: "With the recent redundancies made in the retail and hospitality sector there are opportunities for those individuals to access roles.
"We've already started to have conversations with the British Retail Consortium who are interested in working with us."
>> Watch: On-demand webinar: The CLC on construction's role in kick-starting economic recovery
And Association for Consultancy and Engineering chief executive Hannah Vickers, who was speaking at the same webinar, said there was an opportunity to recruit highly skilled people, such as aerospace engineers, that had lost their jobs in the automotive and aerospace sectors to take up vacancies at companies working in infrastructure such as construction.
But Graham Watts, Construction Industry Council chief executive, said while workers from other sectors could help fill some roles there would be competency gaps in more sector-specific jobs.
He said: "We need to make sure people are competent to do the jobs we want them to do. We need to make sure we have the programmes in place and that's industry's responsibility."