Civil engineering worst performing sector of the market, according to latest Markit/CIPS survey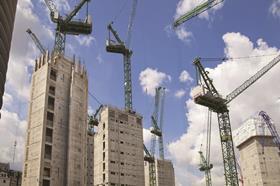 Construction had a subdued February, with the soft growth conditions reported across the UK construction sector at the beginning of the year continuing.
The latest Markit/CIPS Construction PMI report revealed total business activity increased only marginally during the latest survey period, while new work decreased for the second month running.
Data showed the indexes score for February had edged up to 51.4, from a four-month low of 50.2 in January.
While this indicated a marginal increase in construction output during February, the index was weaker than the 2017 average.
Civil engineering was the worst performing category, with activity falling at the sharpest pace for five months, while the continued weaker performance in the housebuilding sector continued in February, meaning residential work remained on track for its weakest quarter since Q3 2016.
The bright spot was an uptick in commercial construction, which expanded at the fastest rate since May 2017.
The report said: "Anecdotal evidence suggested that fragile business confidence and ongoing political uncertainty remained key factors holding back client demand."
Strong input cost pressures were also reported in February, with higher raw material prices, fuel bills and staff wages all flagged.
Tim Moore, associate director at IHS Markit, said : "The construction sector endured another difficult month during February, with fragile business confidence, entrenched political uncertainty and softer housing market conditions all factors keeping growth in the slow lane."
Mark Robinson, Scape Group chief executive, added: "Today's data continues to show the UK construction industry facing significant challenges – the increasing cost of materials and staff pressures is having an impact on the sector's confidence, which is compounded with continued uncertainty over Brexit.
"It is essential that policy makers address these issues as a priority in order for the sector get back to the more promising outlook seen at the end of 2017."
Sue Kershaw, managing director of the major projects advisory at KPMG, said while it was encouraging to see a slight upturn in commercial projects, it was largely due to previously planned activity.
She also flagged Brexit as a growing concern, saying "the concern moving forward is addressing the industry skills shortage within the industry post-Brexit. Non-UK workers are integral to the sector, and we're already starting to see anecdotal evidence of a shortage of labour. This will have an impact on wage inflation, which may halt growth in the sector."