Activity across the construction industry rose at the fastest rate in six years in November, the latest Markit/CIPS survey has found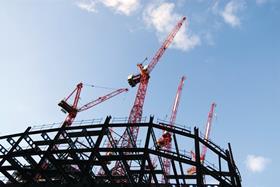 The monthly survey of purchasing managers, which measures how widespread rises or falls in activity are, recorded a value of 62.6 in November, up sharply from 59.4 in October.
This is the seventh month in a row that activity has risen.
The index, prepared by CIPS and Markit, records growth as any figure above 50, with figures below 50 indicating a decline in activity.
The survey said the November data pointed to another strong upturn in the UK construction sector, with output and employment both rising at the sharpest rate since August 2007.
Growth of business activity was broad based across the three main areas of construction, the survey found, with residential building again the best performing category.
Higher levels of output were supported by the joint-fastest expansion of incoming new work since September 2007.
The survey said construction companies pointed to a steep and accelerated expansion of house building activity in November, with the rate of growth the fastest for ten years.
Work on commercial construction projects also increased sharply during the latest survey period, and the rate of expansion was the steepest since September 2007.
Civil engineering activity increased at a robust pace that was little-changed from that recorded in October.
Tim Moore, senior economist at Markit said: "Construction activity continues to spring back to life during the final months of 2013.
"Sustained improvements in infrastructure and residential building helped keep the sector on a strong recovery path in November.
"That said, construction growth is still coming from a low base as output levels rebound from a deep and protracted double-dip recession that only really ended this summer.
"Therefore, while construction's current growth trajectory may be the steepest for over six years, there is still a huge loss of output to recoup before the sector reaches its pre-recession peak.
"Looking ahead, there are a number of positive signs that improvements in activity levels will be maintained, as job creation picked up again in November and confidence about the business outlook reached its highest level since September 2009."