Industry figures voice fears that a vote for independence would lead to downsizing of firms north of the border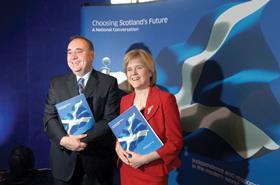 Senior construction figures have expressed serious doubts about the impact of an independent Scotland on the construction and property industry, as this week's televised campaign debate threw the independence debate wide open.
A range of industry figures voiced fears a "yes" vote would lead to downsizing of construction firms north of the border, in the same week as 132 business leaders, including contractors Babcock and Morris & Spottiswood, signed a letter to the Scotsman saying the business case for independence "has not been made".
However, over 200 business backers of Scottish independence, including property and construction firms, responded by signing a letter to the Scottish Herald backing a vote for Scottish independence.
The comments come as the polls narrowed to their closest in six months, with support for independence rising to 37% following a strong performance by first minister Alex Salmond in this week's televised debate with "no" campaign leader Alistair Darling.
Mike Peasland, former Balfour Beatty UK construction services chief executive, speaking in a personal capacity, told Building he feared for Scotland's economic performance and the ability of an independent Scottish government to fund construction alongside its social programmes.
Asked what he would do in response to a yes vote, if back at Balfour Beatty, Peasland said: "You'd have to be making some plans about what the future size of the business is going to be. You may have to re-scale the business."
Peasland said he feared that financial services firms such as RBS, Scottish Widows and Standard Life would leave the country, with inward investment hit by uncertainty over Scotland's future in the EU.
Veteran Scottish construction figure Anthony Rush, formerly chairman of Barr Construction and Scottish MD for Tarmac, said independence would mean it was "highly likely" the Scottish construction industry would have less opportunity going forward. "If I was still at Tarmac going to the board to try and get investment in Scotland, I'd be walking away with my head in my hands," he said.
One listed UK contractor chief executive, who declined to be named, said: "A new independent government will have to make savings and the easiest way to do it will be cutting capital projects."
However, Kenny Anderson, managing director of £7m-turnover Aberdeen-based contractor Anderson Construction and a former CIOB Scotland chairman, said an independent Scotland would create big opportunities for the construction sector. "It's about access to ministers who have full powers to help. With a country of 5.5 million people it is a lot easier to influence things," he said.