Housing work powers industry to 0.8% growth in the third quarter of 2014.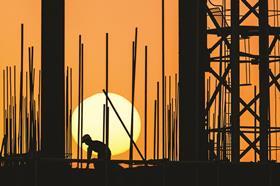 Output in the construction industry grew 0.8% in the third quarter of 2014, compared with the second quarter of the year, figures released by the Office for National Statistics reveal.
The figures show the industry experienced its third successive quarter of quarter-on-quarter growth and that this was at its highest level since the third quarter of 2011.
The ONS said the growth was consistent with the wider economy across which GDP grew 0.7% in Q3.
The figures show construction output rose 2.9% year-on-year in Q3, the sixth consecutive quarter of year-on-year growth.
New housing work, which was at its highest monthly level in September since 2010, remained the driving force behind growth in the industry.
New public housing work grew 5.7% in Q3, compared to Q2, and new private sector housing grew 4.9%.
However, new commercial work declined 3.1% in Q3.
Michael Dall, lead economist at construction intelligence firm Barbour ABI, said the figures showed the industry was "still strong" despite "signs of a cooling housing market".
He added: "The level of output in the infrastructure sector is a further boost to the industry. Perhaps this is evidence of projects in the pipeline beginning to translate into activity on the ground."
Noble Francis, economics director at the Construction Products Association, said signs that growth was spreading from housing to other parts of the industry "means the growth is likely to be sustainable in the medium-term".
He added: "There has been lots of talk about a slowing housing market but output in Q3 was still 4.9% higher than in Q2, which is still buoyant as house builders continue to take advantage of UK economic growth and Help to Buy.
Industrial output was 1.7% higher than in Q2 and 21.7% higher than a year earlier, which was also good growth as the recovering UK economy and a lack of existing floor space buoys warehouses construction.
However, he said it was "disappointing" that public non-housing output fell 1.2% in Q3 and was 7.4% lower than a year ago.
But he said: "It is not a surprise. Government capital investment hit the nadir in 2013/14 and although it is starting to rise, it will be 2015 before we see the benefits of this."