Latest forecast from AMA Research predicts output will rise to £158bn by 2018, with 6% growth this year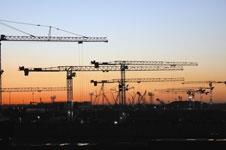 Total construction output in the UK will increase by nearly a third between 2013 and 2018, AMA Research has predicted.
The latest edition of the research specialist's quarterly Construction and Housing Forecast Bulletin forecasts that construction output will increase by 30% to £158bn by 2018 on the basis of 5-6% per annum growth over the period.
AMA says growth will be around 6% this year to around £129bn, underpinned by growth in the residential market.
The bulletin also says the outlook for the residential sector in the medium-term remains positive with healthy rates of annual growth currently forecast until 2018.
Residential new work output is forecast to increase by 36% between 2013 and 2015, stimulated by recent initiatives such as Help to Buy.
Housing starts and completions are forecast to show strong growth in the short-term as consumer confidence and mortgage-lending rates improve, with completions currently forecast to reach 200,000 by 2017.
Forecasts for the non-residential construction sector are also positive, with output expected to see annual growth rates of 4-5% in the medium-term to reach a value of around £65bn in 2018.
And it says infrastructure output growth should continue to be underpinned by large-scale transport and electricity projects in the medium-term, while output within the office and retail sectors are forecast to see more moderate growth rates. Output within the industrial sector is expected to remain volatile.
Commenting on the findings, Andrew Hartley, director of AMA Research, said: "Finally there are some genuine indications of recovery within the construction market. The residential sector in particular is experiencing strong growth at the moment, driven by increased mortgage lending rates and an upward trend in new house prices."