Latest Construction Trade Survey finds declines in activity in all parts of the industry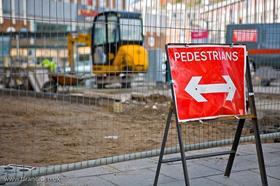 Conditions across the construction sector continued to worsen through the third quarter this year despite the return of the economy to growth.
The latest industry Construction Trade Survey, published today, shows construction activity fell sharply in Q3 2012, despite a return to growth for the UK economy as a whole, while the forward looking indicators of orders and enquiries were also negative, reinforcing concerns that the sector is unlikely to experience growth until at least 2014.
The key survey findings include:
Public new housing and public non-housing were the worst hit sectors for building contractors, with a balance of 38% and 34% respectively, reporting falls in output
29% and 27% of building contractors reported that, on balance, output fell in the private industrial and private commercial sectors respectively
20% of heavy side product manufacturers and 41% of light side manufacturers reported that, on balance, sales fell in Q3
26% of contractors reported that, on balance, orders fell in the third quarter
17% of civil engineers reported a fall in workload, on balance, during Q3
50% of large and medium sized building contractors, on balance, suggested that tender prices reduced in 2012 Q3
32% of building contractors, on balance, reported rises in costs, marginally higher than the 30% in Q2
The proportion of contractors, on balance, reporting falls in profit margins remained unchanged at 49%
Noble Francis, economics director at the Construction Products Association said: "Conditions throughout construction continued to worsen in Q3, as for the first time we experienced a decline in all construction sectors.
"Whilst the public sector construction activity has been falling for some time as a result of the government's cuts, private sector activity is also now falling sharply. On top of this bad news, infrastructure work declined in Q3, which is extremely concerning given the number of recent announcements from government aimed at stimulating infrastructure activity.'
Stephen Ratcliffe, UK Contractor's Group director, said: "These figures show how difficult trading conditions continue to be. With declining public sector spend and a lack of confidence amongst private investors, action is urgently needed to kick-start the construction sector.
"The industry welcomes the steps ministers have taken to boost confidence in construction, but the focus must now be on delivery. Programmes such as the UK Guarantees Scheme are a positive step, but we need to see shovels in the ground as soon as possible.'
Julia Evans, chief executive of the National Federation of Builders said: "These figures are a stark reminder that, while the rest of the economy is showing tentative signs of growth, the government should not take its eye off the ball with regards to construction.
"The government's moves to streamline and speed up planning, fast track and fund infrastructure and fund more house building will not yield immediate results, but they are the building blocks necessary to ensure a sustainable recovery for construction.
"The more immediate consideration for government is to continue to ensure that access to finance for small and medium-sized businesses remains a high priority."
The survey brings together the results surveying members of the Civil Engineering Contractors Association, Construction Products Association, Federation of Master Builders, National Federation of Builders, National Specialist Contractors Council and the UK Contractors Group.