Impact of labour shortages on construction sector laid bare by ONS figures
The construction sector saw the sharpest rise in average weekly earnings out of any sector last year, according to new ONS figures.
Weekly pay growth for people working in construction was the highest out of all sectors in June 2021, having been the lowest just 12 months previously.
The data shows that for most of the period between January 2018 to March 2020, before the onset of the pandemic, annual growth rates in average weekly earnings in the construction sector was higher than all other sectors at around 5% – peaking at 6.3% in July 2019.
But it plunged after the start of the first lockdown in March 2020, falling to -10.8% by June 2020 - the most dramatic fall of any sector.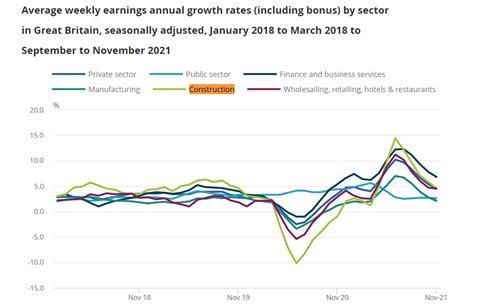 The hard-hit wholesaling, retailing, hotels and restaurants sector saw the second lowest point at -5.4% that month, followed by manufacturing at -3.4%.
Construction's weekly pay growth then climbed steadily during the second half of the year, before dipping again in the first three months of 2021 during the second national lockdown.
But it entered a rapid ascent from March, reaching 14.4% by June. This was higher than the month's average weekly pay growth in finance and business services, at 12.2%, and wholesaling, retailing, hotels and restaurants, at 11.2%.
The figures coincide with the much faster than expected rebound of the construction sector in spring and summer last year which saw widespread shortages of both materials and labour.
Average weekly pay growth in all private sectors then fell rapidly during the rest of the year as lockdown restrictions were eased, with construction falling at the fastest rate - although it still had the third highest growth rate in November.