Public sector clients are being forced to cut costs dramatically. So how exactly are they doing it? Here are the results of a survey by Constructionline, which reveals what the industry needs to be worried about - and where the opportunities can be found
Ever since chancellor George Osborne presented the Comprehensive Spending Review last October, outlining £83bn of public sector spending cuts over the next four years, the industry has been wondering how public sector clients will react. The construction industry is braced for a huge hit, with capital budgets being slashed by up to 74% across government departments. But up until the start of the new financial year this week, when the cuts really start to bite, it's not been clear what they'll do. However, for the first time, Constructionline has sought to answer that, with a survey of the intentions of 136 public sector clients, revealed by Building. The results show not only are clients already cancelling projects, but many intend to shake up radically the way they work, asking contractors for rebates and price cuts, centralising procurement and launching frameworks.
Initial reaction
Unsurprisingly the survey finds public sector clients have primarily been saving funds by cancelling projects. In the six months following the Comprehensive Spending Review (CSR), plans for new projects have been shelved by 58% of public sector clients. Local authorities were hardest hit by cancellations with 63% of the sector saying they were forced to abandon schemes in the last six months. The health sector fared much better, but still abandoned 44% of schemes.
In the next six months, more than two-thirds of clients plan to cut more projects, with councils again wielding the axe most brutally, with 71% planning to cut projects
This picture is set to worsen. In the next six months, more than two thirds of clients plan to cut more projects, with councils again wielding the axe most brutally, with 71% planning to cut projects. Housing associations will be the most restrained, but still more than two-fifths will cut schemes.
The scheme cull is manifesting itself in a move away from new build work to maintenance schemes in a number of sectors, with housing associations particularly hit by this. Before the CSR, the sector recorded 40% of public sector construction as new build and 59% as maintenance. Since the CSR, new build has fallen further to 30% while maintenance has increased to 70%.
Anthony Dillon, deputy managing director for Wilmott Dixon's Manchester office, says his firm recently had several public schemes cancelled. He said: "The kind of thing we're seeing is jobs delayed, put on hold or reduced in scale. There's less work available and henceforth more competition for contracts."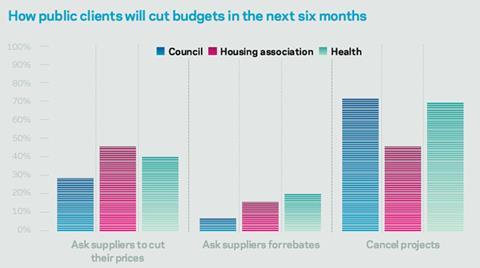 Contradiction
But culling projects isn't the only move clients are making. Since coming into power, the coalition government has signalled that it wants to move away from framework agreements for general procurement to enable SMEs to access work. Despite this, the survey reveals that for construction, public sector clients are actually turning to frameworks in order to save money, as requested by the major contractors. Housing associations, which suffered more than most from the CSR, were particularly keen on frameworks, with 40% joining in the last six months.
Stephen Ratcliffe, director at UKCG, said there were "two contradicting rhetorics coming from the government." He said: "On the one hand they want to save costs through procurement processes, which naturally leads to more frameworks. On the other hand they want to open up the process and give a lot more work to SMEs."
As well as cancelling projects and moving to frameworks, public sector clients are cutting costs in other brutal, but predictable ways. More than a third (36%) of clients have asked their suppliers to cut prices and one in 10 have asked for rebates on work already done. These practices are less prevalent within councils, who overall seem less likely to go back to their existing suppliers and shake things up, but here the number of projects cut is by far the highest of all the sectors.
Procurement departments have also begun to retender for projects and frameworks as part of the cost cutting drive. About a third of public sector clients have retendered for projects while 15.3% have done the same for frameworks.
Overall procurement processes are being streamlined through the formation of buying consortiums and centralisation. Nearly 40% of public sector clients, over half of local authorities and almost a third of housing associations said they had centralised procurement responsibility since the CSR.
Forming buying consortiums is similarly prevalent with 39% of public sector clients merging their procurement departments.
Philip Prince, director of Constructionline, led the survey. He said: "The survey indicates the changing nature of public sector procurement. With small departments grouping to form regional consortiums, new supply chains will have to be formed".
However, he said he believed there were some positive findings."Of the three sectors surveyed the NHS came out the strongest. That is where opportunities will exist for contractors and SMEs."
Whether contractors can locate these opportunities in a world of shrinking spend is another matter."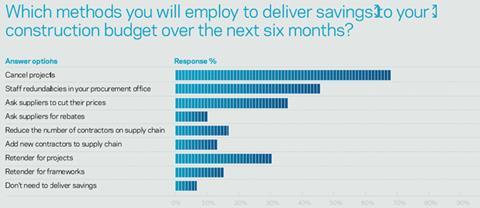 The Constructionline Buyer Sentiment Survey was commissioned to identify current trends within public sector procurement departments since the CSR. Of the 136 respondents 75 identified themselves as local authorities, 27 as housing associations, 21 as NHS bodies. The remainder were emergency services and arms length management organisations (ALMOs). The survey was carried out online. Constructionline is the UK's largest register of pre-qualified construction services and is a public-private partnership between Capita and the Department for Business Innovation and Skills.