Morgan Sindall joins growing number of firms to issue profit warnings as low-priced legacy contracts hit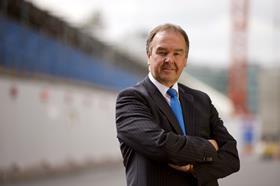 Contractors are facing a "perfect storm" of low margin legacy contracts and rising prices, according to analysis by accountant EY, with the number of profit warnings among construction firms this year already outstripping last year's.
Morgan Sindall this week became the latest major contractor to issue a profit warning, after the firm was hit by problems on a handful of construction contracts in London and the South-east.
The profit warning, issued last Friday (17 October), was followed by the departure of Morgan Sindall managing director Graham Shennan (pictured) this week. The firm said Shennan's role had been "made redundant" after a restructure that will see the boss of its infrastructure business Nick Fletcher and the boss of its construction business Pat Boyle reporting directly to chief executive John Morgan, rather than to Shennan.
Morgan Sindall said the profit warning had come after it suffered a deterioration related to "a small number of fixed-price construction contracts which are due to complete within the next six months and were procured over a year ago".
The firm said it now expected its full-year operating margin to fall from 1% in 2013 to around 0.3% – 0.5% this year.
Contracts are now coming under pressure, leaving some contractors vulnerable to further shocks

Alan Hudson, EY
John Morgan, Morgan Sindall chief executive, said: "This is a short-term and localised issue which is receiving the highest level of management attention and which should be worked through over the next six months.
"The rest of the business is performing well, particularly fit-out."
Other recent profit warnings by contractors include Balfour Beatty, which has made five profit warnings in less than two years – three of which were this year. Specialist T Clarke and consultant Hyder are also among those to have issued profit warnings this year.
This week the RICS said workloads across the industry were rising at the fastest rate since 1994, but warned the sharp growth had led to shortages across all the main trades and professions becoming the most pronounced since 2004, with the supply chain pressures driving up costs.
Alan Hudson, head of restructuring for UK & Ireland at accountant EY, said construction firms were now facing a "perfect storm of low-margin legacy contracts and rising costs", leading to a spike in profit warnings.
EY this week said construction and materials firms have issued nine profit warnings in the first nine months of 2014 - already putting the sector ahead of the whole of 2013, when there were seven warnings.
There were five profit warnings in the sector in the third quarter of 2014 - the highest quarterly total since the second quarter of 2012.
"During the recession, many contractors priced aggressively in response to competitive pressures and the need at least to cover their overheads and retain critical mass for better times," said Hudson.
"These contracts are now coming under severe pressure as labour, materials and subcontractor costs rise, leaving some specialist contractors vulnerable to further shocks and margin pressures."