Overall performance improves but majority of firms not hitting target on 60 days payments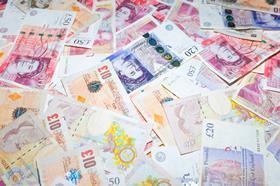 Just a handful of contractors are meeting a government target to pay suppliers within 60 days – while the rest risk being banned from winning new public sector contracts.
The government has repeatedly threatened to freeze companies from new public contracts, starting next month, unless they have paid 95% of all invoices within 60 days in their two previous six month reporting periods.
But the latest official data on how long firms take to pay their suppliers, covering the six months up to the end of June, show only four contractors are now hitting the target.
And only one of them – Willmott Dixon, which paid 98% of invoices within 60 days – also hit the target in its previous reporting period.
The other firms now meeting the government standard are Wates, McLaren and Keller while a handful – Mace, ISG, Skanska, Lendlease Europe and Robertson – paid 93% of invoices within 60 days.
Bottom of the league table, with 57% and 68% respectively, are Laing O'Rourke and Graham – but the pair's most recent data covers the six months to the end of March. These two are due to report their next set of results, for the six months to the end of September, by 31 October.
Worst among those to declare for the six months to 30 June is Galliford Try, whose percentage of invoices paid within 60 days dropped by 4% to 71%.
And Kier, even though it managed to improve its 60 days target by 10%, is still only paying 75% of its bills within the timeframe. The firm has said that half of its £4.5bn turnover comes from public sector work.
The country's biggest builder, Balfour Beatty, paid 86% of its invoices within the 60 days period, while Interserve paid 92% – although the firm stills pays 48% of invoices outside of agreed times.
Under government legislation, firms with more than 250 employees and an annual turnover of more than £36m are now required to publish their payment records every six months.
An overview of contractors' pay performance can be viewed below.
Contractor
Invoices paid within 60 days
Average payment time in days
All payment data are for firms' most recent six month reporting period. This period ran until 30 June for all but five companies. Data for McLaren is for a period ended 31 January. Data for Robertson, Graham and Laing O'Rourke is for a period ended 31 March. Data for Sir Robert McAlpine is for a period ended 30 May.
Willmott Dixon
98%
31
McLaren Construction
95%
41
Keller
95%
39
Wates Construction
95%
34
Robertson Group
93%
36
ISG Construction
93%
36
Lendlease Europe*
93%
35
Mace
93%
30
Skanska
93%
52
Interserve Construction
92%
36
Bam
92%
40
Vinci Construction UK
91%
30
Bouygues
90%
42
Sir Robert McAlpine
90%
34
Bowmer & Kirkland
89%
44
Balfour Beatty
86%
40
Morgan Sindall
85%
36
Costain
84%
36
Multiplex Construction Europe
79%
50
J Murphy
79%
53
Kier Construction
75%
42
Galliford Try Building
71%
54
John Graham
68%
48
Laing O'Rourke
57%
52
Additional reporting by Jamie Harris and Jordan Marshall