New figures show virus-hit China accounted for nearly one fifth of all UK construction imports last year
Contractors are bracing themselves for the cost of jobs to go up as supply chains are hit after new figures showed the importance of imports from China and Italy to UK construction.
On Monday, the US stock market suffered its worst day since the 2008 financial crash on Monday as the number of countries hit by the virus topped 100.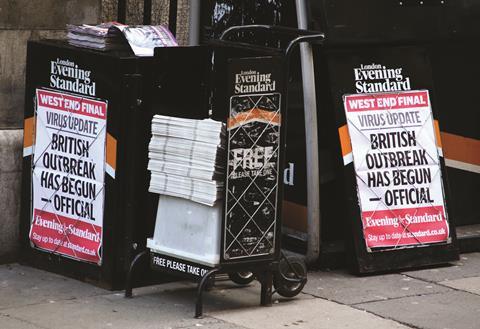 China and Italy are the worst-hit, with the pair accounting for nearly £4bn worth of imports to the UK construction sector last year.
Government figures show just how reliant UK construction is on Chinese imports with last year's £2.96bn from the country accounting for 17% of all construction imports in 2019.
And a number of Italian firms, such as cladding contractors Permasteelisa and Focchi, have a well-established presence in the UK particularly the London towers sector.
But with Italy now in quarantine until next month there are mounting fears products such as cladding, along with other key Italian materials including stone, will be stuck in the country for weeks.
The top five importers, which also include Germany, Spain and the Netherlands, have all been hit by the outbreak and between them accounted for close to half of all UK construction imports last year.
Steve Watts, a partner at London cost consultant Alinea, said: "It does feel like it will worsen before it gets better. Short-term, there are real potential additional costs on current projects."
He added: "We already have examples of procurement of components having to switch from China and other places to safer sources, with a price premium because of the more expensive source."
The top five imported construction materials accounted for more than a quarter of imports in 2018 and included electrical wires and air conditioning equipment.
So far no sites have been forced to shut down because of coronavirus but an EDF spokesperson confirmed that the Hinkley Point C nuclear power station job in Somerset had been given a deep clean after an employee contracted the virus following a visit to China.
One major contractor told Building that it was now planning its response to coronavirus in the same way it had "war-gamed" a no-deal Brexit.
The source added: "We are worried. We suspect it will become very disruptive over the next two or three weeks."
Professor Chris Witty, England's chief medical officer, said on Monday that anyone with a cold, flu or a fever is likely be asked to stay at home in self-isolation. And his deputy Dr Jenny Harries warned yesterday that "many thousands of people" in the UK will now contract the virus.
But the source said: "We [construction] have an issue of who can work from home.
"If we don't have staff on site or we don't have the materials, that is a big commercial thing as well. Who shoulders the cost of the work not done?"
Another source added: "It's not clear to me that this virus is a 'specified peril' so the contract implications overall are very interesting."
The number of coronavirus cases in the UK as of yesterday stood at 373.