EC Harris says funding gap is getting larger, as education secretary pledges to control building costs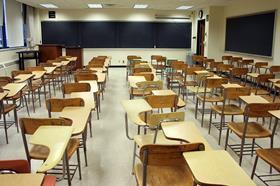 The capital cost of meeting the looming crisis over school places in the UK could hit at least £18bn - 50% higher than local authorities predict - according to fresh research from EC Harris.
The consultant says that the rise, which compares with a £12bn estimate by the Local Government Association (LGA) earlier this week, is due to factors which include the fact that "easy" sites for schools have already been taken, leaving sites which are more difficult and costly to expand, and rising construction costs.
The firm, which works on schools projects with the Department for Education and local authorities, says the £18bn figure is the spending required between now and 2023, based on benchmarking data drawn from existing projects. This would equate to more than £2bn a year.
EC Harris' research comes in a week that education secretary Nicky Morgan, speaking to Building, said that the government would not "let the reigns off cost" on school building, despite concern from some contractors that funding for projects is increasingly unviable in a rising market.
Morgan said: "Of course the economy is recovering, but it's difficult to say we're out of the woods completely. It's very important still to get best value for taxpayers' money and make sure we can invest in as many schools as possible."
An estimated 878,000 extra pupils will need school places between 2015 and 2023, according to the LGA. The coalition government has earmarked £2.35bn for "basic need spending" on the creation of new school places between 2015 and 2017 to help address the problem, and says it will have spent £5bn on extra school places by 2015. However, it is coming under increasing pressure from local authorities and industry to increase funding levels. Building's Agenda 15 manifesto, launched last week, calls for greater public capital spending on schools.
Marcus Fagent, head of education at EC Harris, said due to rising land and construction prices, as well as the costs associated with developing difficult sites, "the funding gap which public agencies are having to deal with is getting larger."
He said potential solutions to the problem would include driving design standardisation, more flexible procurement, and driving more value from land by building housing and commercial premises above and around schools.
Speaking to Building after a networking event at parliament last week (see more on page 10), Morgan said she believed standardised school design was still the right approach in the current market. However, in a move which may concern construction firms who have invested heavily in the concept, she said that that she would keep the approach "under review", saying: "Obviously the construction industry changes over time, and the market changes."
Nicky Morgan's ideal school
"Brightness, airiness, wide corridors, opportunities for meeting spaces and people to mix together. And flexibility." This is education secretary Nicky Morgan's view on elements that help make an ideal school building.
Her comments will be welcomed by architects who have long advocated the importance of adequate space standards. However, some may feel that Morgan's comments appear at odds with the impact of the government's baseline designs for schools. These give an area of roughly 5% below previous standards for primaries and 15% for secondaries. Many designs have met these by reducing circulation spaces to preserve the area of classrooms.
Philip Watson, UK design director for Atkins, said circulation space had come under "huge pressure" and added: "Perhaps the government should consider reviewing these guidelines in the light of the secretary's view."