Pre-tax profit likely to be flat, but contractor says order book up to a record £4.2bn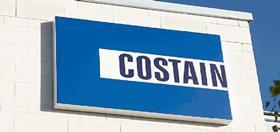 Costain expects turnover for 2018 to come in lower than the previous year, with pre-tax profit likely to be flat.
The contractor said it would meet its expectations for the year to the end of December 2018, with turnover around £1.6bn, down around 7%, and a pre-tax profit of £49m.
Divisional operating margins are believed to be in the region of 4% to 5%.
Costain, which will announce its annual results in March, said it ended the year with a record order book worth £4.2bn, up 8%, while its preferred bidder position stood at around £600m, up 50% year-on-year.
Year-end cash was down 38% at £110m, with the reduction from 2017's "exceptionally high level being due to the timing of receipts in that period", and an average month-end net cash balance of around £77m, down 20%.
Andrew Wyllie, Costain's chief executive, said 2018 had been "another year of progress" for the group, while it "continues to be involved in a number of major regulatory-driven procurement processes".
City observers were encouraged by the trading update, notably around the group's order book which is believed to be 90% repeat business, and with no nasty surprise in the announcement Costain's shares were trading up more than 7% this morning at 348p.
Costain will announce its results for 2018 on 6 March.