City council named Lendlease as its preferred partner back in January 2019
The council in charge of a £1.9bn city centre redevelopment in Birmingham has agreed a contract with Lendlease to go ahead with the project.
The cabinet of Birmingham city council today entered into a joint venture agreement with the firm to revamp the city's Smithfield site.
Lendlease was named as the council's development partner for the scheme in January 2019.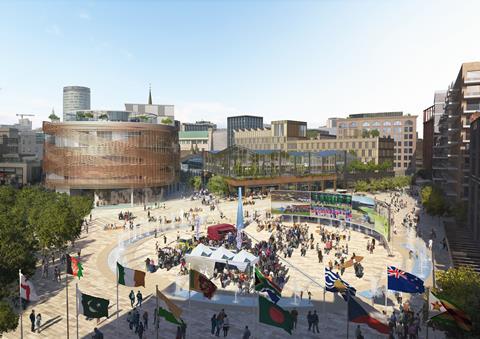 The firm beat remaining bidder, a team of Delancey and Qatari Diar, to the work, which is expected to begin in earnest next year. Hammerson and Bouygues had also joined forces to put forward a rival bid.
Before the formal award of the contract the council and Lendlease had been finalising the terms of the partnership, preparing a planning application and drawing up a business plan for the development.
The plot in Digbeth covers 17ha and will be home to Birmingham's Bull Ring retail markets as well as leisure and cultural space, a public square and more than 2,000 homes. The scheme will take 15 years to complete.
The site is next door to the revamped New Street station and the Bull Ring shopping centre, which includes Future Systems' Selfridges store, completed by Laing O'Rourke over 15 years ago and where now Bam is cleaning its distinctive-looking facade of discs.
A new HS2 station at nearby Curzon Street is also due to be built and open in 2026.
The scheme has been masterplanned by Prior Associates, with Lendlease planning to work with a number of signature architects on some of the planned buildings.
The first phase of the scheme is set to include homes, the retail markets building and public realm.
David Kohn Architects is designing the market buildings, beating a shortlist that included Shigeru Ban working with Waugh Thistleton and Publica, as well as 5th Studio and Acme working with James Corner Field Operations earlier this year.
The site is part of the Birmingham city centre enterprise zone, set up back in 2011 - the same year the council set out its 20-year vision to grow the city centre by more than 25%.