Firm had begun legal action after Haringey scrapped plans to build thousands of homes over the summer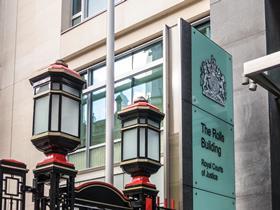 Lendlease has settled its legal row with Haringey council after the north London borough scrapped the controversial £2bn housing plan the pair signed last year over the summer.
The authority voted in July to bin the Haringey Development Vehicle (HDV), a joint venture created by the previous Labour administration, which planned to build around 6,000 homes.
In the aftermath of the vote, Lendlease's chief executive of Europe, Dan Labbad, put the authority on notice it would look to recoup costs and compensation.
In papers lodged with the Technology and Construction Court (pictured), Lendlease said the council's decision was "unlawful" and was "in breach of the fundamental duties of equal treatment, transparency, non-discrimination, proportionality, legitimate expectations and administration".
But Haringey council said the pair had struck a deal which capped at just over £500,000 the cost of compensating Lendlease in the event of the deal being pulled.
It denied any wrongdoing in its decision-making process and any allegations of breaches of its legal duty.
The pair have now settled the dispute and a Lendlease spokesperson said: "While we remain disappointed about the decision not to proceed with the HDV, which was fully out of our control, we have now agreed a settlement with the council.
"This enables us to move forward and work together on the High Road West scheme, which will bring much-needed new homes, jobs and community facilities for the people of Haringey."
High Road West is a £1 billion project to build 2,500 homes, along with a new library, learning centres and other facilities, in the area surrounding the late-running Spurs stadium which is being built by Mace.
A Haringey council spokesperson said: "Lendlease and Haringey have agreed final terms following the cessation of the HDV and there will be no further legal proceedings. This does not affect the High Road West scheme in north Tottenham, where the council and Lendlease continue to work together to create much-needed new homes, jobs and community facilities."