Firm to reopen half its sites and begin to unfurlough staff
The country's biggest housebuilder will begin a staggered reopening of sites from Monday week which will see around half its jobs remobilised in the first phase.
The announcement by Barratt means it has joined a number of its peers, including the other two top three housebuilders Persimmon and Taylor Wimpey, in getting sites back up and running.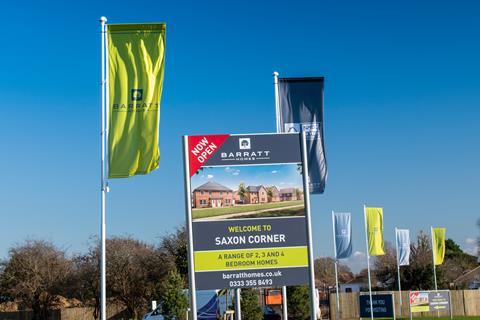 Barratt shut its 360 sites four days after Boris Johnson announced a lockdown nearly six weeks ago.
The firm said it had trialled new social distancing measures, such as changes to signage, site welfare facilities, compounds, site access and walkways, to see how they worked on one of its sites prior to making this morning's announcement.
It said work would restart on 11 May initially to begin implementing the changes to working practices before starting a phased return to construction, with 180 remobilised sites planned for the first phase.
The firm, which has furloughed 85% of employees, over 5,500 people, said the move would mean that a "significant proportion" of staff will be returning to work this month.
But the firm said its sites in Scotland will remain shut where the government there has banned all non-essential construction work.
And it added the restart did not include opening show homes or sales centres.
Chief executive David Thomas said: "We have created a detailed set of working practices and protocols for employees and sub-contractors to ensure that we can reopen our construction sites safely, in a phased and measured way, which minimises risk."
Barratt said it had completed 11,776 homes in the period between 1 July 2019 and 26 April, up from the 11,723 it completed in the same period last year.
But it added: "Initially our [restarted] construction activities will prioritise sold plots at advanced stages of construction and we therefore expect a limited number of additional completions this financial year." Its financial year-end is 30 June.
The firm has taken several measures to preserve cash including cancelling its dividend – originally due to be paid on the day it starts remobilising sites – putting a halt to recruitment and cutting the pay of its executive team.
It said it has access to £430m in cash and cash equivalents and total committed facilities and private placement notes of £900m.