Housebuilder expects strong growth as it pivots towards partnerships
Countryside has reported a 33% increase in completions for the year and returned to profit in a "strong recovery" from last year's pandemic disruption.
In its preliminary results for the year to 30 September, the housebuilder reported 5,385 completions for the period, up from the 4,053 the previous year.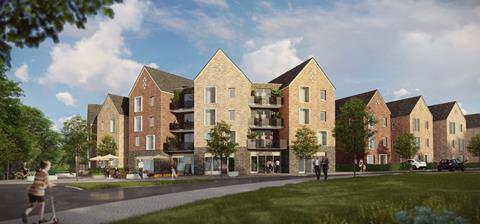 The increase was driven by a 65% increase in homes built for private sale, with 2,394 completions. Affordable completions rose by 25% to 2,107 homes although private rented sector completions decreased by 3% to 884 homes due to "delays to site starts".
Countryside reported pre-tax profit of £85.4m, compared to a £1.9m loss the previous year, driven by a 54% increase in adjusted turnover from £988m to £1.56bn.
It said that it plans to grow its adjusted operating profit from £167.3m for this year to between £200m and £210m next year "as the growth plans set out last year progress and our attractive market conditions are expected to continue".
Its private average selling price increased 4% in the year to £380,000, while its total forward order book stands at £1.53bn, a 7% increase on last year.
It said today that the board does not recommend paying a final dividend to shareholders "given the excellent opportunities for us to invest in the partnerships business".
Countryside last year announced it was winding down its spec housebuilding division to focus on partnerships.
It has now established three partnerships divisions in the Chilterns, the South-west and south London and has a partnerships land bank of 52,903 plots.
The firm has increased the value of assets in its partnerships division from £103m to £610m over the past five years including £209m from the former housebuilding division.
It is aiming to achieve return on capital employed – a measure of the efficiency of capital investment – in its partnerships division from its current 20% to 40% over the next two to three years.
Countryside has begun to sell off assets from its housebuilding division – now termed "legacy operations" – that don't fit the partnerships model.
It intends to raise £450m from the sales to return to shareholders. To date it has raised £50m and returned £49m to shareholders via share buy backs.
John Martin, chair of Countryside, said: "Countryside has a clear path to becoming 100% focused on our differentiated and market-leading mixed tenure partnerships business.
"Since we announced the strategy earlier this year, we have made excellent progress in establishing the new division in the Home Counties where we have a wealth of opportunities to bring our award-winning proposition to a new generation of homeowners and tenants in an area where it is sorely needed."