Housebuilder reveals 'aggressive growth plan' for next five years after acquiring luxury housebuilder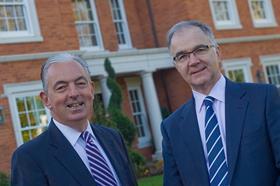 Housebuilder Countryside plans to double in size following its merger with luxury home developer Millgate.
Building revealed this week that the owner of Brentwood-based Countryside, Oaktree Capital Management, had acquired Millgate for an undisclosed sum.
Speaking to Building following the deal, Countryside executive chairman Ian Sutcliffe said the housebuilder was now planning to double in size over the next five years with the backing of private equity firm Oaktree, as part of an "aggressive growth plan."
Millgate, which is focused on the luxury home market in the home counties and the south-east of England, turned over £51.3m in the year to June 2013, and sold an average of just 40 properties a year over the last three years, compared with a high of 120 before the credit crunch.
However, its average sale price was £1.2m, helping it to make a pre-tax profit of £8m in 2013.
Sutcliffe said the acquisition of Millgate would allow Countryside to expand its geographical reach westwards through the purchase of a "fully operational division" that fitted well with Countryside's corporate culture.
"This is not a land grab at all," he said.
He said Countryside was set to release results for the year to September 2013 showing turnover up 20% to over £300m, but that the firm could grow by another 50% beyond that in 2014.
"Our primary objective is to create a growing sustainable business that is resilient in all phases of the property cycle. We're not chasing hopes here, this is an aggressive growth plan," he added.
David Simpson, managing director of Millgate, said there was a "fantastic strategic fit" between the two firms, with Millgate working in the home counties to the west and south of London, and Countryside primarily working to the north and east of the capital.
Simpson said Millgate's developments were at the "top end of the prime market", selling for an average price of £1.8m this year, and therefore were complementary to Countryside's mid-market offer.
Simpson said the plan was for Countryside to start operating from Millgate offices to the west of London within 12 months, and for Millgate to expand into Countryside's heartlands of Essex and Cambridgeshire.
Millgate will build around 35 homes this year, turning over £65m. Simpson will stay as MD of the business, which he said would expand to £100m turnover in four years, and Countryside will retain the Millgate brand. "It's business as usual," Simpson said.
Countryside, which was itself bought by Oaktree last February, has been linked with a possible stock market flotation, but Sutcliffe said no decision had been taken. "If the opportunity arises then we will of course look at it, but it is wrong to say everything is geared toward an IPO."