Firms have until the end of March to bid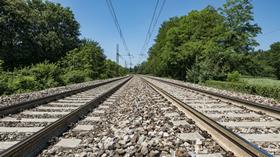 Coventry council is on the hunt for a contractor for a £10.9m railway extension.
The project, which is set to take 12 months, is aiming to improve links between Coventry and Nuneaton.
In a contract notice published on Friday, the council said it was looking for a contractor to undertake detailed design and construction work, which will increase the number of trains servicing the route.
It said the objective of the project was "to improve rail by enabling an increase in service frequency from one train per hour to two trains per hour between Coventry and Nuneaton, as well as introducing additional infrastructure to service Coventry Arena during events".
Work on the project is set to begin in July this year, with the contract running until 30 August 2019.
The job includes the creation of a new platform, the reconfiguration of track layout and associated signalling works, as well as overhead line, electrical and plant alterations.
The project will also deliver a new cross over at Coventry Arena station and implement controls at Hawkesbury Lane level crossing.
Firms have until 27 March to express there interest, with between five and six shortlisted bidders expected to be contacted on 12 April.