UK's biggest contractor expects normal profit to return next year
The country's biggest contractor has become the latest firm to see profits wiped out by covid-19 with Balfour Beatty sinking into the red in the first half of the year.
The firm racked up a £26m pre-tax loss in the six months to June from a £63m profit for the same period last year. The last time it went into the red was a £21m pre-tax loss it recorded in its 2016 half year results. Revenue in the first half of this year was up from £3.9bn to £4.1bn.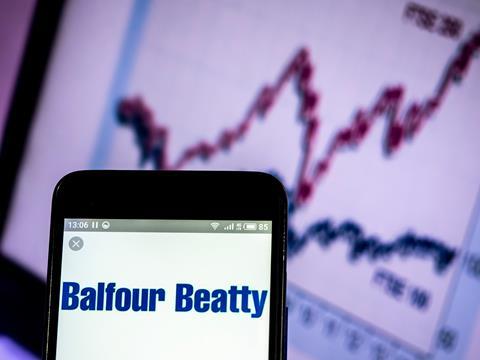 Chief executive Leo Quinn said he expected the second half to be stronger but warned it would be next year before figures improved to pre-covid levels.
The firm said it expected to "report a more normalised operating profit in 2021, broadly in line with 2019". Last year it turned in an operating profit of £159m.
In the six months to June, the firm said its UK construction arm made an underlying loss of £23m from a £17m profit last time with the firm laying the blame on the impact of the UK lockdown introduced by the prime minister in March.
It added: "Covid-19 had a material impact on operations as: Scotland was effectively closed for the second quarter of 2020; London has seen limited productivity due to public transport availability; the South region has been affected by the slowdown in aviation; and lengthening site programmes triggered a reassessment of the Group's contract end forecast positions."
Revenue in the UK fell 3% to £986m although it was up 11% to £1.9bn in the US. The firm said 96% of its sites were open at the end of June – with the exception of hospitality work in Florida and aviation schemes in the UK.
Quinn added: "Since the covid-19 crisis broke, our mission has been to safely manage through it while protecting the Group's strengths. We have kept sites open wherever safe to do so, prioritised supply chain payments and supported staff. The financial impacts of covid-19 are unavoidable; but they will pass."
Balfour Beatty said most of the staff it had furloughed, for which it had claimed £15m, had now returned to work.
It said half year net cash stood at £563m with average month-end net cash at £507m, up from £290m for the same period in 2019, while its group order book was up 20% to £17.5bn largely due to its HS2 deals being signed during the period.