Group expecting output growth to top 4% this year but says supply issues will remain
Construction output will grow by more than 4% this year with housebuilding and infrastructure driving the post-covid rebound, according to the Construction Products Association's (CPA) latest winter forecast.
The group said the figures represent the "remarkable resilience" of the construction sector to lockdown restrictions and the end of the Brexit transition period.
But it warned that materials supply issues, despite easing in recent months, are still the biggest challenge to overall growth and could cause problems in the industry's peak spring period.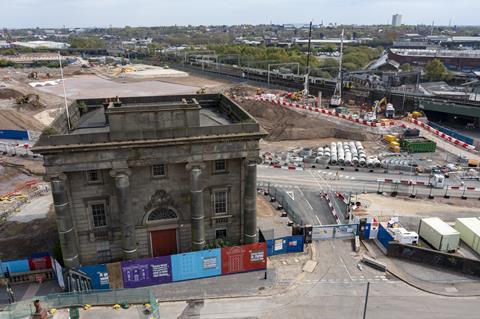 Output in private housing is expected to grow by 3% both this year and next, following the sector's huge 17% growth in 2021.
Although the CPA said house price inflation is likely to be brought down by the end of the stamp duty holiday and a further winding down of the Help to Buy scheme, it said that most major housebuilders are reporting healthy profit margins and strong-near term demand for housing across the UK.
Growth in private housing repair and maintenance output is forecast to flatten out due to rising inflation and renovation costs but is still expected to match last year's historic level of 17%.
Meanwhile, infrastructure will be the "main driver" behind the industry's growth over the next year, with the sector expected to rise by 9.7% this year and 1.1% in 2023 as work continues on HS2, Hinkley Point C and the Thames Tideway tunnel.
But it said big projects had seen delays due to material supply issues, which could result in some work being pushed back to next year.
The report added worries over sufficient materials, products, labour, HGV drivers and imports remained, with SMEs and smaller specialist sub-contractors likely to feel the pinch more than larger firms.
CPA economics director Noble Francis said: "Major house builders and main contractors are less affected as they have better visibility of medium-term demand and can plan and purchase well in advance; plus, they are the larger customers of the manufacturers, builders' merchants and importers.
"Smaller firms, however, have found that availability issues have delayed projects and, consequently, revenue streams whilst sharp cost increases have hit margins, harming their viability even though they have strong workloads."
Last week, the Construction Leadership Council said there were "relatively good" stocks of most materials but that some were still seeing challenges including bricks, blocks, roof tiles, steel lintels, manhole covers and certain sealants, coatings and paints.
It added that issues with bricks would linger until three new UK brickmaking plants open in 2023 and 2024.