Firm hit by Brexit, pension woes and problem London job
Simons first began to run into problems three years ago as a string of creditors wait to see if the firm's shock administration will leave them out of pocket.
The firm's directors called in accountant FRP Advisory yesterday, ending 75 years of trading at one of the country's best-known regional contractors.
According to the group's latest report and accounts for the year to March 2018, the firm owed trade creditors more than £29m.
The same accounts show Simons was owed more than £23m for "amounts recoverable on long term contracts".
Accounts for the previous period, the 12 months to March 2017, show that Simons Group nosedived into the red after three straight years of profit.
During this period, it slumped to a pre-tax loss of £3.8m from a £109,000 pre-tax profit in 2016 with executive chairman Paul Hodgkinson blaming a "significant" loss on one job on the outskirts of London.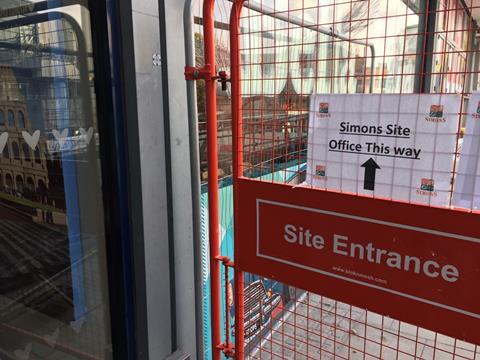 In a note accompanying the accounts, signed at the beginning of July 2017, Hodgkinson, who along with his brother Philip had handed over day-to-day control of the family-run business after 28 years to a new management team three years earlier, said: "We had one particularly poor construction project, where the current results represents a significant loss. We are now engaged in the recovery of our costs."
He said the firm had also been hit by the fallout following the EU referendum in June 2016 which saw five jobs cancelled or delayed. "This left a huge hole in our forward workload," he added.
Hodgkinson also said its development pipeline "struggled to get projects to a tradeable position" and added that its final salary pension scheme, which it shut in 2006 after closing it to new members six years earlier, had "significantly damaged" its result and balance sheet.
Its pension liability was £11.3m according to its latest accounts for 2018, adding that it expected to make a £1m payment to its defined pension benefit scheme this year.
The problems detailed by Hodgkinson prompted the firm to rejig the business in its 2016/17 financial year which saw it shell out £621,000 in restructuring costs, its second exceptional item in a row having racked up a £754,000 hit in 2016 on a legal dispute with a subcontractor on a job dating back to 2012.
Simons admitted the settlement "was in excess of original estimations" and included "a significant level of legal and professional costs".
Turnover in 2017 slumped 16% to £120m and went down further still the following year to £105m – a fall of 13%.
Simons returned to the black in the year to March 2018, posting a pre-tax profit of £704,000 – but the accounts for that period show staff numbers, which were consistently around the 210 mark between 2014 and 2017, had slipped 15% to 182 and at the time of yesterday's administration had slipped again, this time by a third to 124.
Following its implosion, a string of Simons jobs have now been mothballed – including a cinema and office complex in Basildon, Essex, and the revamp of a shopping complex off Upper Street in north London called Angel Central – while FRP Advisory looks to novate existing contracts across to new builders which it said was part of the "orderly wind down of the business of the construction business".
News of the firm's collapse caught many off-guard but FRP said it had been brought in by the firm's directors because "unsustainable cashflow difficulties" had made it impossible for the firm to continue trading.
It is expected that most of the firm's existing 124 staff will be laid off within the coming days.
At a glance: Simons in numbers over the past five years

| Year | | Staff | | Pre-tax profit (loss) | | Turnover |
| --- | --- | --- | --- | --- | --- | --- |
| 2018 | | 182 | | £704,000 | | £104.5m |
| 2017 | | 215 | | (£3.8m) | | £119.8m |
| 2016 | | 214 | | £109,000 | | £141.8m |
| 2015 | | 211 | | £988,000 | | £114.7m |
| 2014 | | 206 | | £629,000 | | £128.6m |