Dancourt went under in July owing £5.3m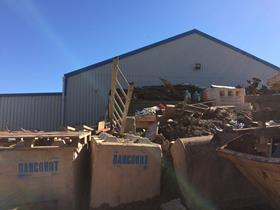 Unsecured creditors of collapsed Bristol subcontractor Dancourt Construction are unlikely to get any money back.
The £15m firm, which carried out civils, ground and earth works and concrete frames, sank in the middle of July owing £5.3m after 16 years in business.
The administrator at accountant Bishop Fleming dealing with the collapse, has said the company was in part felled because it was owed more than £2.5m in payments and retentions by main contractors.
But this week the firm said it had recovered less than £200,000 of the missing money.
"It's too early to determine how many pence in the pound [unsecure creditors] might get, or even if they will get any," said Luke Venner, insolvency practitioner at Bishop Fleming.
The news comes as the directors of the stricken firm, James Sinclair and Richard Dors, spoke of the its final few days in business – and the discounts they were taking in order to settle final accounts.
"You hear of contractors securing jobs on negative margins – so then they have to find it during the job, and we all know what that means," Dors told Building.
Read Building's interview with Dancourt online tomorrow