Crest Nicholson is to "retrofit" the principles of the Garden City into some of its large schemes with planning permission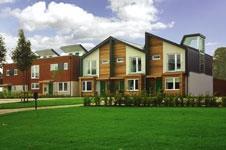 The move is a boost for the Town and Country Planning Association (TCPA), which has been lobbying government to build a new generation of Garden Cities as a means of solving the housing crisis.
Speaking at a TCPA-organised fringe event at the Conservative Party conference, the housebuilder's group board director and regeneration chairman Chris Tinker said: "We have just secured several large consents of 1,500 to 2,000 units and we've agreed with [TCPA chief executive] Kate Henderson that we're going to try to integrate some of the principles of Garden Cities – retrofit them – into some of those developments.
"We won't manage all of the principles on all of them, because they are not at the requisite scale. But we're going to try to show that development of quality, development with style, can be delivered by a modern housebuilder."
Henderson said Crest Nicholson's move was "very exciting".