Housebuilder posts pre-tax profit of £22m on revenue of £192m in its maiden half-year results after returning to stock market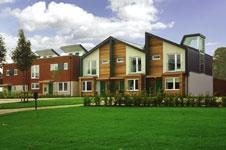 Housebuilder Crest Nicholson has reported its maiden half-year results as a listed company, posting a pre-tax profit of £22m, after nearly £6m in costs incurred through its return to the stock market.
The firm posted pre-tax profit for the six months to 30 April 2013 of £22.2m, after exceptional costs of £5.9m, up 39% from the same period the previous year.
The £5.9m of exceptional costs were incurred as a result of the firm's IPO in February.
The firm posted operating profit for the period of £34.8m, up from £21.7m for the same period last year, which came in at an operating margin of 18%.
The housebuilder, which listed on the London Stock Exchange in February, five years after it was taken private, completed the construction and sale of 810 homes in the six-month period, up 9% on 2012.
However, of these, open market sales were up 30%, compensating for lower demand for affordable housing. The firm said market sentiment was improving, with forward sales, currently running at £331m, 50.1% ahead of the performance last year, and sales per site per week up 18% to 0.77.
The company is also planning to expand production as demand improves, buyng more land and bringing forward the opening of new phases on existing sites.
In its results statement it said that the "business is responding to improved sales rates by increasing its production levels, although there is inevitably a lead time before higher sales translate fully into increased legal completions.
"Provided lenders and planning authorities also play their part, we would expect to see volume growth coming through more fully by the end of the calendar year."
Chief executive Stephen Stone said the results, which will see the firm enter the FTSE250 index later this month, represented a "strong" return to the market as a listed firm.
Speaking to Building, Stone said the boost to sales provided by the government's Help to Buy scheme meant the housebuilder might be able to reach its target of building 2,500 homes a year by 2016 or 2017, up from 1,800 in 2012.
He said that in the eight weeks since the government's Help to Buy scheme was launched in March, the firm's sales per site per week reached "up towards one", from an average of 0.65 in 2012's interim results and 0.77 in the six months to 30 April 2013.
The housebuilding industry has been criticised for being slow to increase production despite a big improvement in profitability in the last two years, with rivals such as Persimmon prioritising cash returns to shareholders over investing in output growth.
Stone said it was now time for the industry "to step up to the plate and start to increase supply".
"Given how long this can take for housebuilders, this is a slightly medium term aspiration, but as it happens it'll be good for GDP growth," he said.
Stone declined to criticise other housebuilders directly, but said: "Ramping up production takes time, it requires more outlets and getting more planning permissions in place.
"But all the other CEOs will be having the same reflections on Help to Buy as us. The housebuilding industry has capacity."
The firm recorded £5.9m of exceptional costs related to the listing, which it said covered the "legal, accounting and advisory costs of the IPO, together with a share-based payment charge of £2.4m which crystallised upon listing.