Shares will be valued at 220p at start of trading on 18 February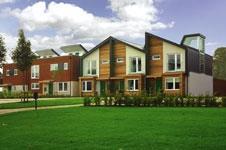 Crest Nicholson will float on the stock market with shares valued at 220p, valuing the house builder at £553m overall.
The float will take place on 18 February and management expect the offer to raise £224.9m.
Crest will raise £56m from selling new stock while existing shareholders, including Deutsche Bank and Varde Partners, will sell £168.9m of stock.
The house builder said it now aimed to return to selling 2,500 units annually within three to four years.
Chief executive Steve Stone said: "We are delighted that our initial public offering has been successful and there has been strong interest from investors.
"This is the first significant IPO of 2013, which bodes well for our industry and the wider market. Having spent 39 of our 50 years as a listed company, we look forward to re-joining the public markets."