Minister backs £30bn project despite government having yet to make business case for line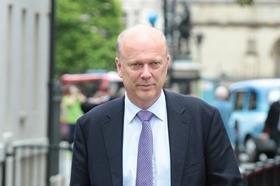 Despite its business case still to be given the nod by ministers, Crossrail 2 remains a top priority for the government, according to transport secretary Chris Grayling.
While he said the line would be important for the capital, the £30bn rail project is still waiting for its business case to be given the green light by the government, as issues over funding the mammoth project rumble on.
In July Grayling said he wanted London to come up with funding for half of the project's construction cost.
Crossrail 2 managing director Michelle Dix told Building in October that the scheme needs the go-ahead before the end of the year to safeguard the land required to protect the latest route options.
Grayling, speaking at yesterday's launch of the government's Infrastructure Delivery Agenda, said: "Crossrail 2 and Northern Powerhouse Rail are mirror projects in my view. They are both important, one for London and one for the economy of the north of England.
"I've been very clear they will march forward in lockstep, I want them both to happen. I think they are both an essential part not just of the pipeline but of the sustainability of the transport system in the future and driving the growth we want."
Crossrail 2 is listed as part of the government's projected £600bn National Infrastructure & Construction pipeline for 2017 to 2021.
London Mayor Sadiq Khan is expected to meet with the secretary of state this month as talks on funding the scheme continue.