Upcoming testing key to railway meeting revised opening deadline, Mark Wild says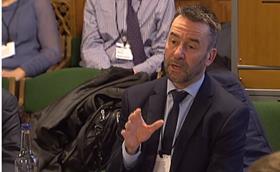 Crossrail is entering its "most difficult and challenging phase" to date, according to the man charged with getting the scheme finished.
Chief executive Mark Wild said the upcoming integration and testing phase of equipment such as signalling would be a significant hurdle to clear.
Wild (pictured) said: "Our judgment is that we remain [to open] within the six-month window between October 2020 and March 2021 and that when taking into account the remaining cost to go, compared with the amount of risk held, we still expect that the project can be delivered within the financing package agreed by our sponsors in December 2018.
"However, this is the most difficult and challenging phase of the Crossrail programme with significant integration and testing to complete."
The project is due to begin the trial running phase of rolling stock in the first quarter of next year so long as problem station Bond Street is ready enough to accept trains.
In his letter to London Assembly transport committee chair Florence Eshalomi, Wild also reiterated comments made by Crossrail chair Tony Meggs at last week's meeting TfL board meeting at which he said the scheme could be another six months late and need a further £400m to finish it off.
In his letter, Wild said: "Our cost forecasts contain additional risk contingency provisions. Current projections show a central cost forecast (including risk contingency) of £15.005bn. This is £42m more than the funding committed under the financing package.
"Additional modelling scenarios that we have carried out include a significantly higher level of risk contingency, up to £394m more than the committed funding, and opening later in 2021."
The railway's central section had been due to open last December, while the entire project was supposed to have a budget of £14.8bn.
But the scheme's central London section now won't be open until some time between next October and the following March. The cost of the project has ballooned to £17.8bn while Bond Street station, being built by a Costain-Skanska team, will open after March 2021.