Exclusive: Link between HR manager and The Consulting Association prompts renewed calls for investigation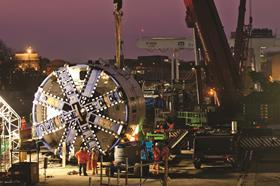 Pressure on Crossrail to investigate alleged blacklisting on the £15bn project has intensified after it emerged that a second figure closely associated with blacklisting organisation The Consulting Association (TCA) has a key labour role on the scheme.
This week it emerged that Pat Swift, previously the human resources contact for TCA boss Ian Kerr at Bam Nuttall, is now human resources manager for Crossrail's western tunnels contractor BFK - a joint venture comprising Bam Nuttall, Ferrovial and Kier.
The revelation emerged as former Crossrail electrician and Unite union shop steward Frank Morris began employment tribunal proceedings backed by Unite against BFK, claiming he was victimised and sacked from the project alongside other workers after raising safety concerns.
Last November, Building revealed that Crossrail's industrial relations manager Ron Barron was an established blacklister and point of contact with TCA in his former human resources role at the contractor CB&I. Barron, who was employed by Bechtel to work on Crossrail, left his post shortly after Building's story was published.
Labour London Assembly member, John Biggs, who tabled a motion calling on mayor Boris Johnson to provide evidence that Crossrail is free of blacklisting in January, said the "stain" of TCA demanded the mayor do more to uphold public confidence with an independent investigation.
"These allegations do not prove misdeeds but we need, on the largest publicly funded construction contract in Europe, to show that we leave no stone unturned in ensuring exemplary and proper practice," he said.
Labour's shadow business secretary Chuka Umunna said the latest revelation suggested that inquiries previously carried out by Crossrail had "failed to uncover details of those engaged on the project with a history of involvement in blacklisting."
Pat Swift declined to comment, referring inquiries to Crossrail.
A Crossrail spokesperson said it had "seen no evidence of, blacklisting of any kind" in connection with the project and wished to see any substantive evidence available. They added: "Mr Morris is wrong to claim that he was laid off or removed from a Crossrail site for raising safety concerns.
"Mr Morris was employed by EIS Electrical not Crossrail Limited. A contract between our western tunnels contractor BFK and EIS Electrical ended in September 2012 as the work EIS were carrying out to commission the first two tunnel boring machines at Westbourne Park
had been completed with tunnelling now under way. EIS Electrical subsequently made 28 workers redundant."

Crossrail and blacklisting
Nov 2012 Building reveals former Crossrail industrial relations manager Ron Barron was an established blacklister in a former role
Nov 2012 Former Consulting Association boss Ian Kerr tells select committee there was "an awful lot of discussion" over Crossrail at its meetings
Dec 2012 Unite union asks London transport commissioner Peter Hendy to investigate
Jan 2013 London Assembly calls on the mayor to investigate possible blacklisting on Crossrail
Mar 2013 Link between human resources manager Pat Swift and the Consulting Association emerges