SME profile: Consultant explains how it has built on its core markets and is now making waves in London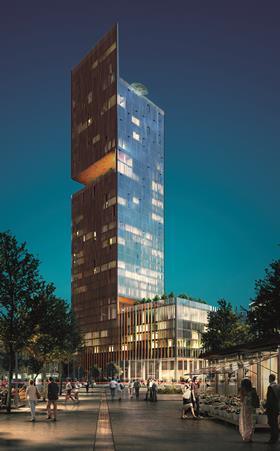 Birmingham-based consultant DBK has enjoyed strong growth over the last decade, more than doubling its turnover, pre-tax profit and headcount over the period.
In the year to March 2015, the project and cost management firm posted revenue of £9.6m and pre-tax profit of £994,000, compared to £4m turnover and £487,000 pre-tax profit in 2005. Headcount was up to 111, compared to 52 a decade ago.
Director and co-owner Tim Downing told Building: "Everyone at the firm is proud of our track record. Between then [2005] and now there's been one of the biggest recessions, and yet we've more than doubled in size."
In the last couple of years the firm has also built on its core strength markets of Birmingham and Manchester to make waves in the London market.
DBK's London office has grown from 20 to 50-strong since 2013 and has picked up a string of major projects, particularly in the residential sector, winning work on the £250m Manhattan Loft Gardens tower in Stratford for high-end developer Manhattan Loft Corporation and the £5bn Greenwich Peninsula scheme for Knight Dragon.
The consultant is gearing up for further expansion and to diversify into new sectors in the capital. Last month DBK poached EC Harris equity partner Richard Marriott as a senior director in its London office, with the remit of expanding the firm into the city's corporate end-user and office fit-out markets.
"We're really pushing London hard," Downing said. "Richard Marriott has come into the business to help us diversify our portfolio. He sees the opportunity here in terms of prospects for SMEs in the London market. It's a big moment for us."
Getting to know DBK
DBK is predominantly private sector focused, with an 80:20 split in terms of private sector and public sector work.
As well as offices in Birmingham, Manchester and London, the firm has offices in Bournemouth and Amsterdam.
Downing, alongside fellow directors Duncan Berry and Steve Kelly, led a buyout of the firm in August 2005. All three are still co-owners and lead the business.
DBK's Birmingham and Manchester offices have experienced an upturn in activity in the past 12 months as the UK's economic recovery has started to gather pace outside London.
"The ripple effect [from London] has been felt in the last 12 months," Downing said. "There's now also a lot of investment money leaving London for the regions. In particular there's a big push in Manchester and Birmingham."
Outside of London, DBK's core market sectors are mixed-use, office, industrial and data centres.
The most buoyant sectors for DBK's regional offices are speculative logistics and industrial, and student accommodation, according to Downing.
An upswing in the Birmingham office sector is expected as a flurry of Birmingham office leases are due to come up.
Recent major wins include DBK's Birmingham office being appointed to project manage a £250m manufacturing facility in Coventry for the iconic London black cab by the London Taxi Company, while its Manchester office has been appointed by Peel Ports on a speculative office building at its Liverpool Waters quay complex.
Expansion plans
The firm is targeting strong growth and expects to increase turnover and pre-tax profit by over 40% by 2018, to £13.5m and £1.5m respectively. Staff numbers are also forecast to increase to 153.
Downing said the firm would consider "acquiring individuals or teams from other businesses" to help it achieve its growth ambitions.
"We are certainly acquisitive," he said. "We're going to be looking strongly at that over the next 12 months."
DBK will also seek to expand its ownership from the current 12 employees to further members of staff over the coming months.
DBK converted from an LLP to a limited company in October last year, which Downing said was "a vehicle for expanding the ownership of the business […] As a limited company that's far easier than for an LLP." He said DBK will extend ownership to "10 to 12" more staff and will launch share options for staff "within a month or so".