Developer Sigma Capital earmarks site in Barking Riverside for private-rented housing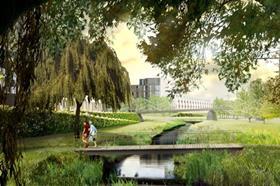 Developer Sigma Capital has earmarked a site in London's Barking Riverside development for 320 privately-rented homes.
Sigma has struck a deal with Barking Riverside Ltd, the joint venture client owned by the Greater London Authority and Bellway Homes, to build 318 homes across four apartment blocks.
Sigma estimates construction costs will be in excess of £50m and said a contractor has not yet been chosen.
Sigma hopes to commence on site later this year, with the construction timetable likely to take 24 months.
The blocks will be part of the wider 10,800-home Barking Riverside scheme in the Thames Gateway.
The scheme is Sigma's first London site in its private rented sector portfolio.
Sigma struck a deal in November to build 6,600 privately-rented homes in Liverpool and Greater Manchester.
The Mayor of London Boris Johnson, said: "This is a great boost for London's newest suburb Barking Riverside, one of the largest regeneration sites in Europe.
"This dynamic site continues to win design awards and has capacity for almost 11,000 homes.
"I welcome Sigma's innovative purpose built private rental housing model that will see us reach 1,000 high quality homes at Barking Riverside."
Ted Ayres, chief executive of Bellway Homes, said: "We are pleased to welcome Sigma on board at Barking Riverside which is fantastic for the momentum of the project.
"We hope this will add further to the mix of housing being delivered in this emerging community."
Graham Barnet, chief executive of Sigma, said: " The inclusion of this site within our private rented portfolio begins to broaden our geographic presence as we aim to build a UK wide private rented residential portfolio.
"Barking Riverside is one of the largest and most ambitious development projects in the UK and we are delighted to be playing a small part in its delivery with such prestigious partners."