BCO conference warns that smaller UK cities are being failed by the commercial property sector with potential knock-on effect for economy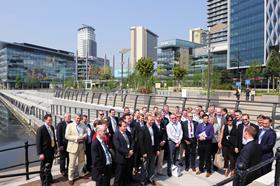 The supply of commercial office space is not responding to demand in British cities, leaving the UK in danger of trailing behind countries with better urban development strategies,according to research released at last week's British Council for Offices (BCO) conference in Manchester.
A Centre for Cities report, Making the Grade, found that the supply of office space is not supporting the expansion of the UK's smaller cities.
Andrew Carter, director of policy and research at Centre for Cities told the conference: "Cities are becoming more important and this impact on office-based jobs which increase as a result.
"We need offices to accommodate these office-based workers. But smaller cities like Milton Keynes, which is the second most buoyant city in the UK in terms of economic performance, Cambridge and Reading are not seeing enough commercial development."
For more BCO coverage:
The report stated that developers, investors and agents should look to invest in smaller cities, which are in the strongest position to grow office and knowledge-based jobs, to ensure supply of commercial space in the UK meets demand.
The report added that other key reasons for the discrepancy between commercial space supply and demand in UK cities were land supply and planning restrictions and public sector driven demand."
Conference speakers raised concerns that unless these issues are addressed, the UK could fall behind global competitors.
Sir Howard Bernstein, chief executive of Manchester council, warned the conference that UK cities, in particular those in the regions, need to work to maintain their global status as Europe's economic significance diminishes.
He said a "spatially focused skills strategy" rather than a national one would be the key to Manchester's success.
"We want to drive the approach to skills development in this city ourselves so we can ensure people are equipped with the right skills to get the jobs we know will be created."
The issue of commercial space was picked up in the developers' breakfast session, which was hosted by Julian Barwick, development director
of Development Securities.
Panelists, including Argent's joint chief executive David Partridge and Great Portland Estates' head of projects James Pellatt, told delegates that building flexibility into future commercial schemes would be crucial for the survival of the office sector.
Top conference quotes:
"I am not convinced modern design always works. For some more traditional companies it can look a bit like your Dad dancing at the disco" – James Pellatt, head of projects at Great Portland Estates
"Sod heritage. We have preserved enough 19th century town halls" – Matthew Parris, journalist and broadcaster
"There are northern cities, but Manchester is a Europen city that happens to be in the north of England" – Phil Doyle, director, 5plus Architects
"Cities are becoming increasingly important and more people live in them now, than outside them" – Alan Harding, professor of urban and regional governance at the University of Manchester
"Organisations see the office as a manifestation of their culture, and are therefore prepared to invest to make sure they meet the needs of their employees and their customers" – David Partridge, joint CEO Argent Group