Deputy chairman of Wates Group promises new approach after being appointed president of office body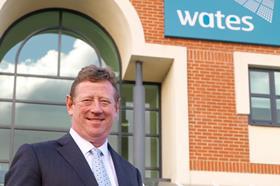 James Wates has said he will bring the "savvy" and "pragmatism" of the construction industry to the British Council of Offices (BCO) after being appointed president of the body this week.
Wates – who is also deputy chairman of his family's Wates Group - is the first contractor to head the BCO.
He told Building his appointment gave "greater legitimacy" to contractors' involvement in the BCO – which also represents landlords and occupiers – and that he would bring a "construction savvy" approach to the organisation.
He said his main focus was to help "unlock development finance" and to get commercial projects moving.
Wates said he would also lobby to ensure the Bank of England's quantitative easing funds made their way to "productive use" including office development rather than "propping up bank balance sheets".
He added he would lobby to ease the planning process for developers and explore ways of building offices "in the most economical way".
Current levels of office construction are 35% below the UK long-term average, according to recent Drivers Jonas Deloitte research.
Wates – who is also chairman of the industry's training body CITB-ConstructionSkills and the UK Contractors Group – will chair the BCO's board of management and executive board.