Developer also reports rise in costs for revamp of Saatchi building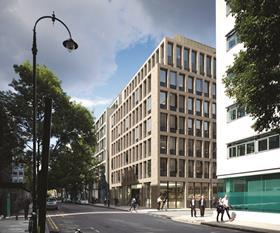 A potential Brexit has not impacted occupier demand for Derwent London's middle market office product, according to chief executive John Burns.
He said the London-focused developer "continues to see little evidence of any slowdown in occupier demand for its middle market rental product." However, Burns said a looming Brexit had "lowered" general investment activity.
In a first quarter business update, Derwent also reported the cost of the revamp of the Saatchi building has risen by an estimated £29m, taking the total spend to £236m. Derwent said the cost rise was due to it revising the planning permission for 80 Charlotte Street to de-risk the construction process.
The firm currently has one million sq ft under construction with 400,000 sq ft due for completion by the second half of 2017 and is on site at four principal developments, including The Copyright Building in W1, for which the company said it had signed a fixed price building contract with an unnamed contractor.
Derwent London has also received planning permission for 125,000 sq ft of office and retail at Monmouth House in EC1.