Lack of clarity over government announcement on improving flagship scheme aimed at offsetting ECO cuts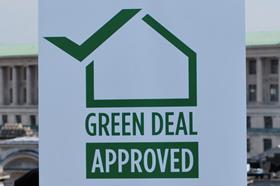 Confusion surrounds improvements to the Green Deal, which are designed to help offset a weakening of its sister scheme the Energy Companies Obligation (ECO), announced by the government this week.
Alongside efforts to reduce the burden on energy bills (see story above), the government announced it would introduce a stamp duty rebate of £1,000 for homebuyers installing energy efficiency measures under the Green Deal.
It said this could increase to as much as £4,000 for the installation of solid wall insulation.
Incentives for the scheme have been a key part of Building's Green for Growth campaign and have been called for by a variety of industry bodies.
The Department of Energy and Climate Change (DECC) said the scheme would be available to all people moving house including those who don't pay stamp duty, helping around 60,000 homes a year, over three years.
But the details about how the rebates will work will remain unclear until the government publishes a consultation on the plans in January. The changes are then set to come into effect in March.
John Alker, director of policy at the UK Green Building Council, said that the move was a "step in the right direction" but needed to be balanced against the accompanying cuts to ECO.
But he added: "I think it reinforces again that the government as whole does not accept the economic opportunity in greening the built environment. It's concerning but not surprising."
The government also announced an additional £60m for local authorities to undertake "street by street" programmes of energy efficiency retrofits, bringing the total funding for these projects this year to £80m.
DECC said it would also introduce a scheme to support private landlords in improving the energy efficiency of their properties, which will improve around 15,000 of the least energy efficient rental properties each year for three years.
DECC said taken together the schemes would be worth £540m.