Contractor suffers slide in profits, but turnover remains stable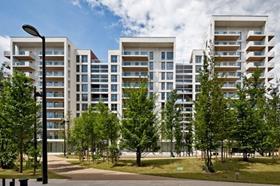 Contractor Ardmore posted a 77% drop in pre-tax profit for the year to 30 September 2013.
The London-headquartered contractor founded by Irish brothers Cormac and Patrick Byrne posted pre-tax profit of £902,000 for the period, down from £4m the previous year.
Turnover was more stable, falling just 1.5% to £236.1m, down from £239.6m.
In a statement accompanying the accounts, co-founder Patrick Byrne said: "The decrease in […] profit in the year is due to the ensuing market conditions in the UK.
He added: "Despite the relatively difficult market conditions the directors are satisfied with the results for the year.
"The stability in turnover was welcome. In still relatively difficult markets, the group has ensured repeat business with its biggest clients, a growth in construction with housing associations and the public sector and commenced some key landmark jobs in the year."
The firm's average number of employees increased by 22 to 329, up from 307, while the firm's wage bill went up by £789,000 to £14m.
The firm also posted a 76% drop in operating profit – which strips out finance costs – to £2.2m, down from £6.5m the previous year.