Capital & Counties' £8bn regeneration scheme clears legal hurdle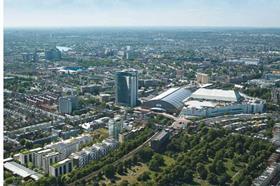 A judge has thrown out a legal challenge to Capital & Counties' £8bn regeneration scheme for the Earls Court area of west London.
The judicial review application – made by local resident Harold Greatwood – was refused by the High Court on Monday.
Judge justice John Mitting refused the application on all grounds.
Greatwood claimed Hammersmith & Fulham council failed to properly consult with residents on a conditional land sale agreement the council made with Capco.
Following the court's decision, the council and Capco have signed the land sale agreement.
The 77-acre scheme will include 7,500 homes and offices, leisure, hotel and retail space, a primary school, library, an integrated health centre and five-acre public park.
The project won outline planning approval from the two London boroughs covered by the scheme – Hammersmith and Fulham and Kensington and Chelsea – last year.
Gary Yardley, investment director of Capco, said: "The Earls Court project now has great momentum.
"Following the resolutions to grant planning consent from RBKC and LBHF last year, we are pleased to have entered into the CLSA with LBHF marking another important step in the ongoing process to create Sir Terry Farrell's vision for the Opportunity Area.
"We look forward to working with the local community and delivering the Earls Court Masterplan which will create 7,500 new homes and 12,000 new jobs in the area."