Bob Lane and David Lock among appointees to garden city's development board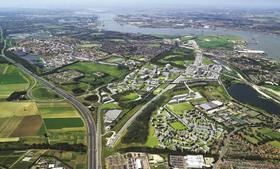 Two of the leading figures in the development of new towns over the past 30 years have been brought in to help deliver the government-backed "garden city" in Ebbsfleet, Kent.
Communities secretary Eric Pickles has named Bob Lane and David Lock among five appointees to the board of the Ebbsfleet Development Corporation, which will oversee the delivery of the 15,000-home settlement.
Lane is a former chairman of the now-defunct Thames Gateway Development Corporation, which was responsible for the redevelopment of large swaths of Essex and east London until 2012. He also led the regeneration of Liverpool Docks during the 1980s.
Lock, meanwhile, is a planning adviser who played an instrumental role in the development of Milton Keynes. He is also a former chief planning adviser to the Department of the Environment and former chair of the Town and Country Planning Association.
The other three appointees include Louise Hardy, a former director of Laing O'Rourke; Katie Perrior, a former senior media officer for the Conservative party; and David Holt, a former finance director at Land Securities. Holt has also been appointed the corporation's deputy chairman.
The government intends to lay secondary legislation later this month which would establish the Ebbsfleet Development Corporation during April.
The appointment of the corporation's chief executive will be announced shortly.