UK-based joint venture made responsible for $1.2bn budget as Omnium appointed QS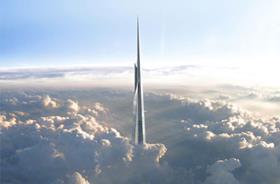 EC Harris and Mace will be responsible for ensuring the world's tallest skyscraper hits its $1.2bn budget and is built on time, the developer of the kilometre-tall Kingdom Tower in Jeddah, Saudi Arabia, has said.
The UK-based joint venture - appointed last month, as revealed exclusively in Building – will take "total control" of ensuring the project hits its $1.2bn (£800m) budget and 63-month deadline, Waleed Batterjee, chief executive officer of developer Jeddah Economic Company (JEC), said.
If successful, Kingdom Tower will be delivered faster and cheaper than the current tallest building in the world, the 828m-tall Burj Khalifa in Dubai, completed in 72 months for $1.5bn (£1bn).
Speaking to Building, Batterjee said he was "very confident" the EC Harris and Mace-guided project team would hit the project's budget and deadline.
Batterjee also revealed that JEC has re-appointed UK-based Omnium as quantity surveyor on the project.
Omnium previously worked on the scheme and re-secured the contract after it was re-tendered by JEC.
Omnium was founded in 1962 and carries out most of its work in the Middle East. It acted as quantity surveyor on the Burj Khalifa.
Batterjee said that EC Harris and Mace would act as "owner's representative" on Kingdom Tower. "Everything has to go through EC Harris and Mace before it comes to me," he said.
The UK-based joint venture will guide the rest of the project team through supervision consultant Dar Al-Handasah.
Dar Al-Handasah is the only firm sanctioned to direct the project's contractor Saudi Binladin Group, Batterjee said.
The project's architect is US-based Adrian Smith + Gordon Gill Architecture, the structural engineer is US-based Thornton Tomasetti and the piling contractor is Saudi Bauer.
Batterjee said EC Harris and Mace would be required to make up for extra expense incurred at the piling stage by cutting costs during the above-ground works.
The piling work will involve drilling the world's deepest piles at 105m below ground.
He said the primary reason why he felt confident the project would be delivered on time and on budget was down to contractor Saudi Binladin's expertise.
Nabil Batrawi, Saudi Binladin's project manager on the 601m-tall Abraj Al-Bait clock tower in nearby Mecca, has transferred to lead the Kingdom Tower project.
Batterjee added that the project, which is bring driven by Prince Al Waleed bin Talal, would create hundreds of local jobs.